Federal Judge Gives Go-Ahead for Mexican Mother to Sue after Son Shot to Death in Mexico by Border Patrol in U.S.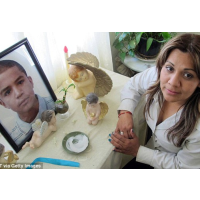 Araceli Rodriguez with photo of her son, Jose Antonio (photo: MCT via Getty Images)
The Border Patrol will have to defend itself in a civil case after a federal judge in Arizona ruled a family from Mexico can sue the agency over the death of a teenage boy who was fatally shot across the border by an agent on U.S. soil.
Araceli Rodriguez , the mother of Jose Antonio Elena Rodriguez, 16, filed a wrongful death lawsuit after her son was shot eight times in the back by Border Patrol Agent Lonnie Swartz on October 10, 2012.
The Border Patrol has argued that Rodriguez had no right to sue in the U.S. because a Mexican national killed on Mexican soil is not entitled to protections under the U.S. Constitution.
But U.S. District Court Judge Raner Collins disagreed, saying Rodriguez has a Fourth Amendment right to challenge the shooting. Specifically, Collins said the shooting constituted a "seizure" on the part of the Border Patrol agent because it stopped Jose from moving freely. Unreasonable seizures are a violation of the Fourth Amendment.
"The Court finds that, under the facts alleged in this case, the Mexican national may avail himself to the protections of the Fourth Amendment and that the agent may not assert qualified immunity," Collins wrote.
His ruling allows the lawsuit to proceed.
The Border Patrol has been criticized for its numerous shootings of immigrants in recent years. At least 19 people died from 67 incidents, all but three of which resulted in agents being absolved by superiors. The three outstanding cases are pending.
The American Civil Liberties Union is helping Rodriguez, who was in Nogales, Sonora, near a border fence when Swartz shot her son from Nogales, Arizona. Swartz claims he was defending himself against rock-throwers. The family contends the teenager wasn't involved in any wrongdoing.
-Noel Brinkerhoff
To Learn More:
Judge: Family of Mexican Teen Shot by Agent Can Sue (by Astrid Galvan, Associated Press)
Family of Mexican Boy Killed by Border Patrol Agent Can Sue, Judge Rules (by Nigel Duara, Los Angeles Times)
U.S. Courts Struggle with Case of Border Patrol Agent who Shot to Death a Teenager on the other Side of the Border (by Noel Brinkerhoff and Danny Biederman, AllGov)
Border Patrol Sued for Killing a Picnicker in Mexico (by Noel Brinkerhoff, AllGov)