Woodstock Producers Say Republicans Stole Their Logo for Convention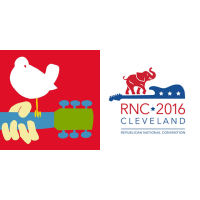 By Tim Ryan, Courthouse News Service
CLEVELAND – While the delegates at the Republication National Convention this week danced and sang along with a raucous medley of classic rock hits, the organizers of the genre's greatest festival say the feeling isn't mutual.
The presenters of the iconic Woodstock Music Festival, noticing a similarity between its original logo and the one plastered around Cleveland for the RNC, are calling on the Republican Party to adopt changes to its platform that come in line with the festival's message.
"As your convention logo is strikingly reminiscent of our world-famous logo from the 1969 Woodstock Festival, why don't you consider incorporating some of our Woodstock values into the RNC platform?" a blog post from Tuesday on the Woodstock Ventures website reads, first reported by the Poughkeepsie Journal.
The organizers of Woodstock, a four-day music festival held in 1969 in central New York, said in the blog post that the music festival espouses values of community, equality, environmental responsibility and activism and called on the Republican party to join them in promoting such issues.
"For almost 50 years, the Woodstock Dove & Guitar logo has symbolized, and resonated with, those who believe in equality, community, activism and environmental protection," Joel Rosenman, founder of Woodstock Ventures and co-producer of the famous 1969 festival said in the blog post. "These are universal values that we encourage the RNC, and all Americans to adopt in today's politically charged and chaotic times. Our country could us a little more community, unity and love right now."
The logo for the Republican National Convention features a red elephant – the symbol of the Republican party – prancing along the neck of a blue electric guitar. The guitar is a nod to Cleveland being the home of the Rock and Roll Hall of Fame.
"The elephant marching forward represents strength with a positive attitude," said Rob Falls, president and CEO of Falls Communications in a press release announcing the logo last November. "The guitar is a proud symbol of the rock and roll history of Cleveland. The end result is a strong patriotic solution that conveys the excitement and importance of this significant event. We are proud that this logo will be a part of our city's and nation's history."
Meanwhile, Woodstock's logo features a white dove perched stoically on the neck of what appears to be a blue and green acoustic guitar. A large white hand wraps around the guitar's neck.
When asked if the Woodstock logo was a source of inspiration for the logo his company designed for the RNC, Falls said "definitely not." None of the people who designed the logo were even alive when Woodstock happened, Falls added.
To Learn More:
New University of California Logo Is a No Go for Many (by Ken Broder, AllGov California)
Nuns Sue Blue Cross over Trademark Dispute (by Steve Straehley, AllGov)