Nuns Sue Blue Cross over Trademark Dispute
Monday, September 07, 2015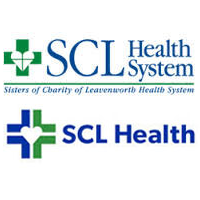 The old (top) and new logos of SCL Health System
A giant insurance company is taking on a group of nuns and the nuns are fighting back.
The Sisters of Charity of Leavenworth Health System (SCL), which runs hospitals and clinics in Kansas, Colorado and Montana, has used a logo including a cross since 1976. It tweaked its logo to add a bit of blue to it. Insurance behemoth Blue Cross then warned the Sisters of Charity to stop using the logo, threatening litigation and to stop its agreements with the nuns' facilities, causing SCL patients to pay out of pocket or go elsewhere for healthcare.
"This would result not only in substantially decreased revenues to SCL Health, but in patient hardship, especially in those geographic areas where SCL Health is a principal healthcare provider or where patients have established healthcare relationships with SCL Health physicians and hospitals," SCL claims.
Those threats caused the nuns to file suit against Blue Cross, stating that Blue Cross has been aware of the logo for almost 40 years and that the updated version has been acknowledged by Blue Cross to be "virtually identical" to its original logo, according to Emma Gannon of Courthouse News Service.
"Like thousands of other Christian-founded health and medical service providers, SCL Health has used the symbol of the cross to denote its Christian heritage and holistic approach to health care and spiritual well-being," according to the suit.
The Sisters of Charity are seeking declaratory judgment of non-infringement and non-dilution, and cancellation of Blue Cross trademark No. 554,817, which the Sisters say Blue Cross already has abandoned. They also seek the costs of the suit.
And probably a firm rap across the knuckles for Blue Cross.
-Steve Straehley
To Learn More:
Blue Cross Warning Sends Nuns to Court (by Emma Gannon, Courthouse News Service)