Vietnam Vet Presented Purple Heart after 47 Years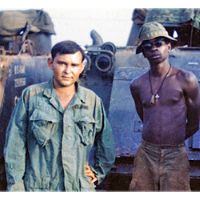 Fred Rivera and Herman Johnson during Vietnam War (photo: CNS)
By Courthouse News Service
WASHINGTON (CN) — Talk about a surprise party. Forty-seven years after Fred Rivera saw his best friend die in his arms during a firefight in Vietnam — then found out only recently that Herman Johnson is alive — Fred saw Herman get his long-overdue Purple Heart in an emotional reunion at the Vietnam Memorial Wall on Sunday.
The weekend held multiple surprises for Johnson, 68, of Warren, Mich.
His congressman, Sander Levin, was there. A three-star general, Lt. Gen. Guy C. Swan III, Ret., pinned the Purple Heart onto his breast in a ceremony at the Three Soldiers monument by The Wall.
"We're going to correct that record here today and make sure that Mr. Johnson gets his award that is 47 years overdue," Swan said.
Sgt. John Marek, who enlisted other veterans to track Herman down and united him with Fred, conducted the ceremony.
"This is to certify the President of the United States of America has awarded the Purple Heart, established by Gen. George Washington, at Newburgh, N.Y., Aug. 7, 1782 to Private First Class Herman Johnson," Marek said.
Gentle sounds of weeping filled the air.
Herman thought he would never see Fred again, and no idea that his long-lost friend had spent weeks burning up the phone lines to get Herman his Purple Heart — and to keep it a secret.
"I'm almost crying, ya'll. I never thought this would happen," Herman said after Swan pinned the combat medal on him. He choked back tears. So did Swan.
"It shocked me. Tears came into my eyes ... I never expected this," Herman said in an interview after the ceremony. "I'm honored. I appreciate everything they did for me. Everything."
After finding out in March that his old brother in arms was still alive, Fred set out on a secret quest to get Herman his Purple Heart. He was frustrated for months by Army red tape, despite the efforts of Rep. Levin and veterans organizations.
But a lieutenant general isn't just any other veteran. Swan, a veteran of the 11th Armored Cavalry Regiment, as are Fred and Herman, pulled rank on the Army bureaucracy. It approved Herman's Purple Heart on June 30 and sent it to Levin's office.
Fred told Herman he would get a lapel pin at the Sunday ceremony, commemorating the 50th anniversary of the U.S. entry into the war. And that's what Herman thought until the retired general pinned the Purple Star over his heart.
Herman, appropriately, had dressed in purple slacks and a white dress shirt with purple trim.
Rivera immortalized his bond with Herman, and what he thought was Herman's death, in a lightly fictionalized, award-winning 2014 novel, "Raw Man."
"Everything in that book is true," Herman told Courthouse News — except that he didn't die.
During an eight-hour firefight in the Parrot's Beak on Aug. 20, 1969, a rocket blew both men out of their track. Fred was the driver; Herman fired a .60-caliber machinegun inches over Fred's head. Fred, injured himself, though he did not yet know how badly, held Herman in his arms and watched him bleed out until medics took him away.
"That has been my reality for 47 years. That has been my biggest trauma," Fred said in an interview.
Herman remembers coming to, covered in blood in the jungle.
"I said, oh my God, am I in heaven? I started crying, blood all over my jungle fatigues, blood on my neck."
For 47 years, Fred said, "He's looked at my picture every day and I've looked at his picture every day" — both thinking the other one was dead.
On Sunday, the 20-minute ceremony drew a crowd of tourists visiting the memorial.
"His purple heart is 47 years overdue," Congressman Levin told the crowd. "And we had to fight some red tape. But the armed services came through."
After the ceremony, Swan spoke of his pride in Herman and in all Vietnam veterans.
"The veterans of Vietnam are like the heroes of this regiment from my generation. I'm a post-Vietnam guy. So in addition to the personal story here, this is a unit tribute to these two fellow cavalry troopers. So that's why I'm glad they got in touch with me to be part of this," Swan said in an interview.
"A Purple Heart is important for those that were wounded in combat. It's an award you don't go looking for, but when someone is injured they certainly deserve that award. And in Herman's case it took 47 years, but we got him the award he deserved."
Levin called the day "ultra-special."
"I come from a generation which was very much involved with and a witness to all of the disputes over the Vietnam War, including my own concerns. And I think we always felt that there was a failure to welcome home those who had served. Because they aren't the ones who made the decision, and they're the ones who paid the price personally. And so today I think embodies our obligation to remember and honor those who served," the congressman said.
Another hidden hero who made Sunday possible was Sgt. Marek, 31, a veteran of the war in Iraq. After meeting Fred through a Facebook group for veterans with post-traumatic stress disorder, he tried take a rubbing of Herman's name on the Vietnam Memorial Wall to send it to Fred as a gift. But Herman's name wasn't there. So the search began.
Rivera seems to have a knack for making friends.
"Me and Fred became very, very fast friends, best of friends, brothers even," Marek said in an interview. "When he got 'Raw Man' in, he gave me the very first copy and inscribed it. I've got it in my [hotel] room, I keep it very, very close to me at all times. I don't really let it ever leave my sight. When I go to work it's in my backpack."
Marek credits Rivera with saving his life, and in doing so, teaching him what it means for veterans to help veterans.
"I actually attempted suicide," Marek said. "Gun to the head. Pulled the trigger twice. Damn thing didn't go off."
That was news to Rivera. He had never heard the story.
Marek said he went into "soldier mode," broke down the gun and tried to figure out why it didn't fire.
"By the time I had broken it down the second time, I had scared myself," he said.
So he called Fred.
"I said, 'Hey, man, I'm having a bad day.' And he told me, 'Look, this is all temporary. It will get better. It's going to get worse before it gets better, but it will get better.'"
All three men have struggled with the aftermath of combat: alcohol, physical pain and suicidal urges. Herman said he heard once through the grapevine that Fred had survived Vietnam and was playing in a band, but he never tried to find him because he was struggling just to survive.
"I was a dope fiend," he said. "Messed my whole life up. But I got it right, now. I got it real good now."
Herman got sober and lives a clean life. He attributes it to help from God and from his sister, whom he calls his "backbone."
Fred and Herman met privately on Friday in Washington — after 47 years.
"I cried," Herman said. "I cried. I cried. We just hugged each other. I cried. That's my brother over there, my best friend. He's still my brother, my best friend."
To Learn More:
After Refusing a Purple Heart, World War II Vet Accepts it…70 Years Later (by Noel Brinkerhoff, AllGov)