VA Benefits Backlog So Bad it Threatened Employee Safety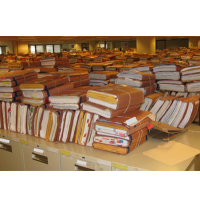 VA backlog in Winston-Salem (photo :Veterans Affairs Office of Inspector General)
The Department of Veterans Affairs (VA) has had so much trouble keeping up with paperwork claims that the backlog actually became a physical threat to employee safety in North Carolina.
At the VA center in Winston-Salem, 37,000 claims folders were stored on top of file cabinets due to the office running out of space. The result was "an unsafe workspace for (VA) employees" that had "the potential to compromise the integrity of the building," according to a report (pdf) issued by the VA Office of Inspector General.
The IG reported that the weight of the combined folders exceeded the load-bearing capacity of the building itself.
Employees had to use ladders and step stools to reach some files. This situation produced at least one work-place injury when a worker was hurt trying to retrieve a file.
Since the report was issued, some of the files have been moved to other locations. The VA IG's office has acknowledged that the situation has improved, but is still not acceptable.
It is estimated that nearly one million veterans are currently waiting for their benefit claims to be processed by the VA. The average wait time for a disability claim to be resolved is 279 days, with first-time claims taking even longer—about 318 days. In the last four years, the wait time has increased by 2,000%.
-Noel Brinkerhoff
To Learn More:
Veterans Affairs Backlog Files Stacked So High, They Posed Safety Risk to Staff (by P.J. Tobia, PBS NewsHour)
Inspector Finds Veteran Claims Files Stacked On File Cabinets In Winston-Salem (by Faith Abubey and Mark Geary, digtriad.com)
Claims Folder Storage at the VA Regional Office, Winston-Salem, North Carolina (VA Office of Inspector General, Office of Audits and Evaluations) (pdf)
Veterans Waiting more than a Year for Benefits have Grown from 11,000 to 245,000 under Obama (by Noel Brinkerhoff, AllGov)