U.S. Security Barriers on Border with Mexico May Disrupt Pumas more than Humans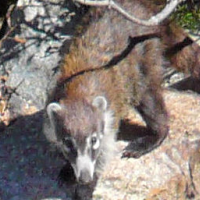 White-Nosed Coati in Southern Arizona (photo: phlewt, Wikipedia)
Efforts to wall off parts of the border between the U.S. and Mexico may have done more to harm animal species than to deter illegal immigration, a new study says.
Researchers from the United Kingdom examined select areas along the international boundary between Arizona and Sonora, employing cameras to monitor human as well as animal activity.
What they found was that barriers erected to keep people from crossing illegally into the U.S. had disrupted the movements, if not the wellbeing, of species such as the puma (or mountain lion) and coati, which are similar to raccoons. However, humans continued to cross the border despite the barriers, resulting in "the worst of both worlds for biodiversity."
"Results showed that puma and coati were more likely to appear in treatment areas without barriers, whereas humans were not observed more frequently in one treatment area over another," the researchers wrote in their paper, published by PLoS One.
"The suggestion is that the intermittent fencing present in this part of the world does affect some native species, but does not necessarily restrict the movement of humans (including illegal migrants), who may negatively impact native species."
In some study areas, pumas had largely abandoned habitats divided by a border wall.
But coatis, which aren't inclined to relocate like pumas, could be more impacted by the barriers and might experience a collapse in their population.
The study was conducted by Jamie W. McCallum and Innes C. Cuthill from the University of Bristol and J. Marcus Rowcliffe of the Institute of Zoology, Zoological Society of London.
-Noel Brinkerhoff
To Learn More:
Conservation on International Boundaries: The Impact of Security Barriers on Selected Terrestrial Mammals in Four Protected Areas in Arizona, USA (by Jamie W. McCallum, J. Marcus Rowcliffe and Innes C. Cuthill, PLoS One)
5 Animals Hurt by the U.S./Mexican Border Wall (by Kevin Mathews, Care2.com)