U.S. Investors Increasingly Seek to Divest Themselves of Stake in Gun Manufacturing
Monday, December 14, 2015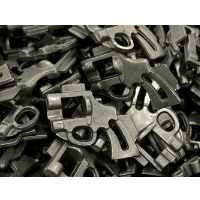 Newly cast handgun bodies at Smith & Wesson manufacturing plant (photo: Charles Krupa, AP)
As happened with companies that invested in apartheid-era South Africa, gun manufacturers are being targeted by some investors who don't want their money funding instruments of death.
Unfortunately, it can be difficult to know if investments include gun manufacturers. It's easy enough to sell stock in Smith and Wesson; Sturm, Ruger & Co.; and ammunition maker Olin. But what shares are held in a mutual fund, the primary vehicle for most investors, is sometimes more difficult to determine.
The Campaign to Unload, a network of 50 organizations seeking divestment of gun-makers' shares, has put together a list of funds that contain firearm and ammunition manufacturers. Their site, Unload Your 401(k), gives information on many popular mutual funds, which are the bulk of holdings in most retirement plans.
"You can make sure you're not supporting these companies; it's a step an individual can take," Cathie Whittenburg, communications director of States United to Prevent Gun Violence, one of the partners behind the campaign, told The Guardian.
Investment in gun manufacturers has been on the rise for at least the past eight years. President Obama has called for more gun control laws on 16 occasions, according to Politico, which typically triggers an increase in gun sales and investments as people rush to buy guns in anticipation of new legal restrictions. Since 2010, shares of Smith and Wesson have risen by 400%, this month hitting their highest price since 2007, reported The New York Times.
At the same time, initiatives for divestment of stakes in the gun industry were launched following the 2012 shooting at Sandy Hook Elementary School and the recent San Bernardino attack. Some of these are being sponsored by cities and major retirement funds that are trying to persuade financial institutions not to do business with gun-makers.
"As we stare at the financial smoking gun that enables gun violence, inaction is not an option," New York City Public Advocate Letitia James wrote in a letter to TD Bank, according to the Times. "If you want to do business with New York City, you can't be in bed with companies that manufacture the agents that kill our children and families." TD Bank has financed Smith and Wesson to the tune of $280 million, and James is trying to get the bank to sever that tie.
-Steve Straehley, Danny Biederman
To Learn More:
Guns in Your 401(k)? The Push to Divest Grows (by Andrew Ross Sorkin, New York Times)
Guns in Your Investment Portfolio: Arming Your 401(k) against Gun Makers (by Suzanne McGee, The Guardian)
California Teachers Pension Fund Helped Bankroll Manufacturer of Newtown Massacre Rifle (by Ken Broder, AllGov California)