U.S. Government Brings Back Civil Service Exams after 34-Year Gap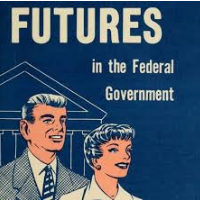 1950s-era brochure inviting testing for federal employment (photo: United States Civil Service Commission)
Joining the federal workforce these days can involve doing something other federal workers haven't had to do since the early 1980s: take a test.
The federal government abolished the civil service exam in 1981 following multiple discrimination lawsuits that claimed the test was biased against minorities. But with so many people applying to become federal employees, some agencies decided to bring back the civil service exam, albeit in a much newer and modern format that tries to avoid being unfair to blacks and Hispanics.
About 10% of would-be bureaucrats at three dozen government agencies—including the departments of Defense, Justice, and Health and Human Services—will take the USA Hire test that utilizes "animated avatars and videos to simulate challenges that could confront employees, testing their reasoning and problem-solving skills," Lisa Rein wrote at The Washington Post.
"Advances in technology allow the tests to scale questions; a correct answer leads to a harder question and an incorrect one ratchets down to an easier option. Scoring is instantaneous, an advance that can quickly winnow the pool of applicants," Rein said.
The test is designed to gauge an applicant's general aptitude as well as teamwork, problem solving, judgment and specific job skills.
Civil service exams originated in 1955 as the Federal Service Entrance Examination. At that time, starting salaries for federal employment were $4,040.
-Noel Brinkerhoff
To Learn More:
For Federal-Worker Hopefuls, the Civil Service Exam is Making a Comeback (by Lisa Rein, Washington Post)
Would the Government Have Hired You in 1956? (by Lisa Rein, Washington Post)
Assessment & Evaluation (Office of Personnel Management)