Two Positive Steps for Government Transparency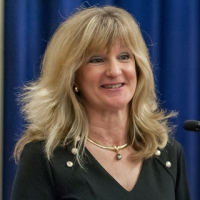 Melanie Pustay heads up DOJ's pilot program (photo: U.S. Dept. of Justice)
After years of failing to live up to his campaign promises of a more transparent federal government, President Obama is now embracing the spirit of those promises with two actions being taken by his administration.
A new program to be tested by the U.S. Department of Justice (DOJ) will expand the Freedom of Information Act (FOIA) process to the benefit of the public. The DOJ has crafted a six-month pilot program that will see seven federal offices and agencies publish all responses to FOIA requests. Anticipating possible "implementation challenges and questions," the department is enacting the program to test its feasibility.
Until now, an agency only published records released under the FOIA if three or more people or organizations asked for them. But under the pilot project, a single approved request will be enough for those participating in the test program to put the documents online.
The Sunlight Foundation called the effort "a promising shift from present practice."
"If successful, the pilot could be implemented more broadly across the executive branch and increase public access to important information about government activity," Sunlight's Zachary Sorenson wrote.
Those taking part in the pilot project will be the Environmental Protection Agency, the Office of the Director of National Intelligence and the Millennium Challenge Corporation, plus offices within the Justice Department, Department of Defense, Department of Homeland Security, and National Archives and Records Administration.
In other transparency news, the Consumer Finance Protection Bureau (CFPB) recently announced that it would release consumer complaints filed with the bureau against financial institutions — "more than 400,000 complaints sent to nearly 3,000 companies, to be exact," according to the Sunlight Foundation's Rachel Shorey. "This newfound information is a great avenue for the CFPB to amplify the voice of consumers and open up useful data in a useful way."
-Noel Brinkerhoff
To Learn More:
Freedom of Information Act Pilots: Agencies Piloting Release-to-One is Release-to-All Policy (Department of Defense) (pdf)
Pilot Program Will Publicize All FOIA Responses at Select Federal Agencies (by Zachary Sorenson, Sunlight Foundation)
CFPB Releases New Database of Consumer Complaints (by Rachel Shorey, Sunlight Foundation)