Texas Legislator Claims Partial Ban on Single-Use Plastic Bags Means State is being "Californianized"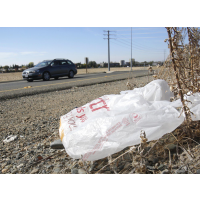 (AP Photo)
As far as Texas legislator Matt Rinaldi is concerned, his state needs to stop "Californianizing" by trying to ban plastic grocery bags.
The Republican state representative has introduced legislation that would override local ordinances governing single-use plastic bags. The city of Austin prohibited the bags within its limits two years ago, while Dallas in January enacted a five-cent charge for them.
But Rinaldi's plan, House Bill 1939, would allow businesses to bring the plastic bags back in Austin by allowing bags or containers "made from any material" at checkout counters. His measure states "an ordinance or regulation adopted by a municipality purporting to restrict or prohibit a business from, require a business to charge a customer for, or tax or impose penalties on a business for providing to a customer at the point of sale a bag or other container made from any material is invalid and has no effect."
Rinaldi wrote on Facebook: "Gov. [Greg] Abbott warned that 'Texas is being Californianized and you may not even be noticing it," according to Courthouse News Service. "It's being done at the city level with bag bans, fracking bans, tree-cutting bans. We're forming a patchwork quilt of bans and rules and regulations that is eroding the Texas model. I agree."
In addition to Rinaldi's effort to stop the plastic-bag ban movement, the Texas Retailers Association filed a lawsuit challenging Austin's ordinance, claiming it violates state law.
-Noel Brinkerhoff
To Learn More:
Manufacturers Sue Dallas Over Bag Law (by David Lee, Courthouse News Service)
Don't Californianize Texas, Lawmaker Says (by David Lee, Courthouse News Service)
Many Don't Like Dallas Bag Fee But Are Changing Habits, DMN Poll Finds (by Randy Lee Loftis, Dallas Morning News)
Plastic Bag Industry May Have Suffocated California Grocery Ban (by Ken Broder, AllGov California)
California Is First State to Ban Plastic Bags, Just in Time for Repeal Movement (by Ken Broder, AllGov California)