Seattle's Garbage-Searching Policy Ruled Unconstitutional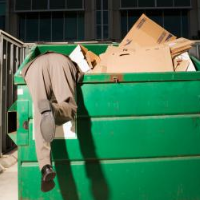 Credit: Fuse / Getty Images
By June Williams, Courthouse News Service
SEATTLE — Seattle's warrantless searches of garbage to enforce its recycling law is unconstitutional, a judge ruled.
King County Judge Beth Andrus did, however, uphold the city's ban on disposal of recyclables and compostable food waste.
Though Seattle has one of the highest recycling and composting rates in the nation, the city passed a law in September 2014 that fines residents for discarding food or recyclables in their personal garbage bins.
Garbage collectors and Seattle Public Utilities inspectors enforced the law by searching garbage cans without suspicion or warrants.
Eight Seattle residents, represented by the Pacific Legal Foundation, filed suit in 2015, saying the law "violates privacy rights on a massive scale."
Andrus agreed, and granted summary judgment.
"The enforcement provisions of the ordinance and implementing rule, on their face, allow trash collectors to open and search the contents of a resident's garbage bags, even when food waste or compostable paper is not in plain view. The city conceded that such a search would be constitutionally impermissible. Thus, the court must conclude that the enforcement provisions, as currently written, are facially unconstitutional," Andrus wrote in her Wednesday ruling.
Pacific Legal Foundation attorney Ethan Blevins called it "a victory for common sense and constitutional rights."
"Seattle can't place its composting goals over the privacy rights of its residents. By authorizing garbage collectors to pry through people's garbage without a warrant, the city has promoted a policy of massive and persistent snooping. That's not just wrong as a matter of policy, as the judge has correctly ruled, it is wrong as a matter of law," Blevins said in a statement.
Seattle Public Utilities said it is studying the ruling.
"We will study the ruling and determine what changes we need to make in the program and the city ordinance," the utility said in a statement.
To Learn More:
Seattle to Begin Fining Households and Restaurants for Wasting Food (by Steve Straehley, AllGov)
Recycling: Good for the Environment, Dangerous for Workers (by Noel Brinkerhoff, AllGov)
Can Styrofoam Food Containers Really be Recycled? New York Judge Rules Yes (by Noel Brinkerhoff, AllGov)