Seattle to Begin Fining Households and Restaurants for Wasting Food
Sunday, September 28, 2014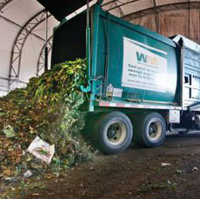 Truck dumps compost materials at an Everett, Wash., plant (Elaine Thompson--AP)
Your mother always told you not to waste food, and now the city of Seattle is telling its residents the same thing.
Seattle's city council unanimously passed an ordinance last week that mandates fines for those who throw food in the general garbage can instead of in a compost bin. Trash collectors will be empowered to inspect residential cans and if they contain more than 10% food or other compostable items, the owner will find a $1 fine on his or her next utility bill. Apartment owners will get two warnings for their dumpsters, but $50 fines for subsequent offenses.
Seattle's law goes into effect January 1, but there will be no fines until July 1. Even then, the city doesn't expect to make much money from the ordinance. A similar recycling law has been on the books for nine years, but the utility has collected only about $2,000 over that time.
"The point isn't to raise revenue," Tim Croll, solid waste director for Seattle Public Utilities, told the Seattle Times. "We care more about reminding people to separate their materials."
Seattle is trying to address a problem that has become more acute around the country. About 35 million tons of food was thrown out in the United States in 2012, 50% more than in 1990, according to The Washington Post. That's about one-fifth of all the garbage generated in this country. And it's not just a matter of wasting food resources that could go to those in need: food waste creates methane, a greenhouse gas 20 times more detrimental to the environment than carbon dioxide.
One estimate (pdf) by the Natural Resources Defense Council said that as much as 40% of America's food supply ends up in the trash. That's in the same country in which 14% of people have trouble putting food on their tables.
-Steve Straehley
To Learn More:
City Council Approves Plan to Require Food-Waste Recycling Starting in 2015 (by jseattle, Capitol Hill Seattle)
Seattle OKs $1 Fine for Adding Too Much Food to Garbage Bins (by Daniel Beekman, Seattle Times)
Americans Throw Out More Food than Plastic, Paper, Metal, and Glass (by Roberto A. Ferdman,
Washington Post)
Confused by Date Labels on Food? You're Not Alone (by Noel Brinkerhoff, AllGov)