Sanders' Brother Hopes for Better Electoral Luck in British Parliament Run
Sunday, September 25, 2016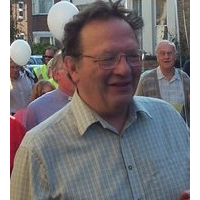 Larry Sanders
Sewell Chan, © 2016 New York Times News Service
LONDON — Larry Sanders, the brother of Sen. Bernie Sanders, is running to fill the seat being vacated by David Cameron, the former prime minister, in the British Parliament.
Sanders, 82, was chosen on Thursday night by the Green Party as its nominee in an Oct. 20 special election in the constituency of Witney, about 67 miles west of London.
Like his younger brother, Sanders grew up in New York City and attended James Madison High School and Brooklyn College. In 1969, after graduating from Harvard Law School, he moved to Oxford, England, where he has devoted his career to social work and the law and been an advocate in areas such as mental health and education.
The brothers are close and share progressive political views. At an emotional moment during the Democratic National Convention in Philadelphia in July, Larry Sanders, as a delegate representing Democrats who live abroad, cast a vote for his brother, saying their parents would have been "immensely proud" of him.
Larry Sanders — not to be confused with the fictional late-night television host played by Garry Shandling in an HBO comedy that ran from 1992 to 1998 — has already served in public office; he was elected in 2005 to a seat on the Oxfordshire County Council, and re-elected in 2009.
He is nonetheless a long shot for Cameron's seat, which the Conservative Party has held nearly continuously since 1974; the Conservatives have chosen a 37-year-old lawyer, Robert Courts, as their candidate in what the party considers a safe seat. In interviews on Friday with Buzzfeed UK and with the radio program LBC, Sanders acknowledged that he was unlikely to win.
"The underlying issues will be the one that Bernard raises, which is the fact that we've had growing inequality for the last 30 or 40 years, which means the bulk of the wealth and income has gone to the very richest people," Larry Sanders told Buzzfeed UK. He added that he would also work against efforts to privatize parts of the country's much-loved National Health Service.
Cameron, who led Britain for six years, stepped down as prime minister on June 24, the day after British voters decided to leave the European Union. He initially vowed to remain in Parliament, but on Sept. 12 he resigned his seat, saying he did not want to be a distraction for his successor as prime minister, Theresa May.
The Conservative Party, now led by May, controls 329 of the 650 seats in the House of Commons, while the main opposition, the Labour Party, holds 230 seats. The Green Party holds one.
To Learn More:
More Americans Support Bernie Sanders than Donald Trump, but Trump Gets 23 Times as much TV Coverage (by Noel Brinkerhoff and Steve Straehley, AllGov)
Bernie Sanders Gets Ice Cream Named After Him (by Gina Cherelus, Reuters)