Popularity of Nation's Governors: Brownback and Jindal Fare the Worst, Baker and Daugaard are Favorites
Thursday, November 26, 2015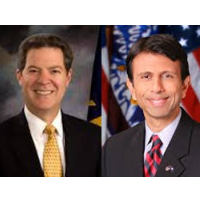 Governors Sam Brownback and Bobby Jindal
Republicans can claim both the most popular and least popular governors in the country, according to a new poll.
Morning Consult's survey of more than 75,000 voters in all 50 states revealed the governor with the highest approval rating is Charlie Baker of Massachusetts, with 74%. Only 14% said they disapprove of Baker. Behind Baker in popularity is South Dakota's GOP governor, Dennis Daugaard, with 70%.
Following Daugaard are Republicans Larry Hogan of Maryland (69%), Jack Dalrymple of North Dakota (66%), and Brian Sandoval of Nevada, also 66%.
At the bottom of the popularity scale is Kansas' governor, Sam Brownback, with a 26% approval rating. Brownback is widely disliked in his state for his financial policies that have forced massive cuts in school funding and infrastructure spending. Second from the bottom is Republican Bobby Jindal of Louisiana, with 35%.
Since Republicans hold more than 60% of the governors' seats in the United States, it makes sense they would land at both ends of the scale. Democratic governors with the highest ratings are Minnesota's Mark Dayton and West Virginia's Earl Ray Tomblin, both at 62%.
Morning Consult's survey found 34 of the nation's governors have approval ratings of 50% or higher and 16 governors have approval ratings over 60%.
-Noel Brinkerhoff
To Learn More:
How Do Voters Feel About Your Governor? (by Reid Wilson, Morning Consult)
Kansans React to Brownback's Last Place Finish in Survey (by Madeline Anderson, KAKE TV)
Poll: Sam Brownback Most Unpopular Governor in America (by Jonathan Shorman, Topeka Capital-Journal)
Presidential Candidate Bobby Jindal Promises to use Nonexistent Law to Protect Confederate Statues (by Noel Brinkerhoff, AllGov)
10 Governors Elected in 2014 with Less than 50% of Vote (by Noel Brinkerhoff, AllGov)
Report Reveals Kansas Gov. Brownback's Tax Policies will put His State $1 Billion in Debt…6 Days after He Won Re-Election (by Noel Brinkerhoff and Steve Straehley, AllGov)