Presidential Candidate Bobby Jindal Promises to use Nonexistent Law to Protect Confederate Statues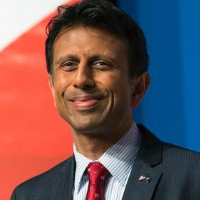 Governor Bobby Jindal (AP photo)
Following South Carolina's decision to take down the Confederate Flag, Louisiana is embroiled in a debate over removing four Confederate statues from New Orleans. Governor Bobby Jindal vowed to use state law to keep the statues in place without realizing the law in question doesn't exist.
At issue are statues of Robert E. Lee, P.G.T. Beauregard and Jefferson Davis and a monument commemorating an attack launched by the White League against the Reconstruction-era government in the city, according to the Acadiana Advocate.
All four have been targeted for removal by the New Orleans' Historic District Landmarks Commission, which claims its authority to do so under an ordinance permitting the City Council to remove any public statue that "honors, praises or fosters ideologies which are in conflict with the requirements of equal protection for citizens," or that "has or may become the site of violent demonstrations." The city's mayor, Mitch Landrieu, has expressed support for this action.
Jindal reacted by saying he would use the state "Heritage Act" to prevent the statues' removal. However, his effort has been described as "a lost cause" because "it turns out Louisiana doesn't have such a law," Jeff Adelson reported at the Acadiana Advocate.
"Nothing of that name shows up in a review of state laws, though a South Carolina law with that name, passed in 2000, kept the Confederate flag flying over that state's Capitol grounds until recently," according to Adelson.
Realizing the governor's mistake, "Jindal's office walked back its remarks" late last week, wrote Adelson, while still proclaiming Jindal would continue looking for a way to stop New Orleans from getting rid of the statues.
-Noel Brinkerhoff
To Learn More:
'Heritage Act' Cited by Bobby Jindal Admin to Defend Confederate Statues Apparently Doesn't Exist (by Jeff Adelson, Acadiana Advocate)
Four Confederate Statues in New Orleans Recommended for Removal, But Bobby Jindal Trying To Block the Move (by Jeff Adelson, Acadiana Advocate)
Jindal Seeks to Block Removal of Confederate Monuments in New Orleans (by Natalie Schachar, Los Angeles Times)