North Carolina Teenagers' Nude Selfies Led to Charges that they were both the Perpetrators and the Victims of Child Pornography
Monday, September 28, 2015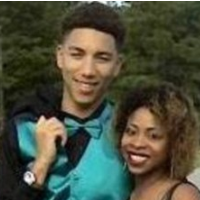 Cormega Copening and Brianna Denson (photo: Facebook)
A North Carolina prosecutor charged two teens as adults in a child pornography case even though they were the children in question.
Fayetteville police stumbled upon a nude photo of Brianna Denson when they were checking out the phone of her boyfriend, Cormega Zyon Copening, while investigating an unrelated case. There were also nude photos of Copening on his phone. Denson had taken a nude photo of herself which was on her phone and his phone. Both were 16 at the time this was discovered; ironically, within North Carolina's age of consent to engage in sexual intercourse.
However, they were ensnared by a law that makes it illegal to possess or share nude images of a minor. Both faced prison time and the prospect of having to register as sex offenders for decades.
Initially, Denson was charged with being both the perpetrator and the victim of two counts of sexual exploitation of a minor—herself—because she took a photo and possessed it. Copening was arraigned on five counts of sexual exploitation of a minor, four for making and possessing photos of himself and one for receiving the photo that his girlfriend sent him.
A psychologist who has studied the sexting phenomenon called the initial charges "overkill."
"It's becoming a way that people are initiating sexual contact with one another," Michelle Drouin of Indiana University-Purdue University Fort Wayne told the Fayetteville Observer, describing the activity as the modern version of "getting to second base."
Fortunately, prosecutors realized that that punishment far outweighed any crimes that might have been committed by the teens. They were both allowed to plead guilty to misdemeanors and put on a year's probation, including the prohibition of using cellphones during that period. Their records will be expunged if they comply with all the terms of the probation.
Prosecutors say they're bound by child pornography laws that weren't written to anticipate teens sharing nude photos of each other over their phones. They say it's up to legislators to update the laws.
Elizabeth Englander, a Bridgewater State University psychology professor, told the Associated Press that prosecuting minors for sexting can be harmful to them. "Where you have two kids who are in a relationship, they're not trying to exploit each other...and they're exchanging these kinds of photos, it seems to me that the cure is worse than the disease," she said.
-Steve Straehley
To Learn More:
Sexting Case Highlights Quandary Over Child Porn Laws (by Jonathan Drew and Mitch Weiss, Associated Press)
Teens Who Take Nude Selfie Photos Face Adult Sex Charges (by Paul Woolverton, Fayetteville Observer)
Why do Lawmakers Keep Sexting Sydney Leathers? (by Steve Straehley, AllGov)