Why do Lawmakers Keep Sexting Sydney Leathers?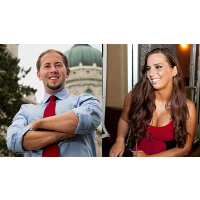 Justin Moed and Sydney Leathers (photos: justinmoed.com and AP)
Sydney Leathers, whose racy exchange of texts with former Rep. Anthony Weiner (D-New York) might have cost Weiner the New York mayoral seat in 2013, has ensnared another politician.
Democratic Indiana State Rep. Justin Moed has apologized for engaging in an affair via text message. Moed responded to an ad Leathers posted looking for someone she could "financially dominate." Moed was carrying on the relationship anonymously—he referred to himself as "Bitch Boy"—but Leathers discovered his name when he sent her a pink leash and collar via Amazon and his name was on the package.
"I'm a little speechless," Leathers told Richard Johnson of the New York Post. "I Googled him and found out he's a lawmaker. Apparently only politicians can pick up on my pheromones," she said.
Leathers, who lives with her father in Evansville, Indiana, was somewhat disappointed that another liberal politician had been caught up in a scandal involving her. "I'm really sad," she said. "I was really hoping it was a Republican."
Moed, who represents part of Indianapolis and is engaged to be married in September, apologized for his conduct. "I am truly sorry I have hurt the ones I love most with my poor judgment. I am committed to rebuilding trust with my family and my community. This is a private matter and I ask for it to be treated as such. I apologize to my constituents and to everyone I have let down," Moed said in a written statement sent to The Indianapolis Star.
Leathers has appeared in four X-rated movies and is studying radio and television at a school in Illinois.
-Steve Straehley
To Learn More:
Indiana State Rep Apologizes for Sexting With Sydney Leathers (by Tom LoBianco, Indianapolis Star)
Who's the Latest Lawmaker to Sext With Sydney Leathers? (by Richard Johnson, New York Post)
Sydney Leathers: From Sexting to Studying (by Will Higgins, Indianapolis Star)
Porn Star Admires Republicans' 'Frugal Investment' (AllGov Photo Gallery)