Net worth of America's Richest Self-Made Woman Falls from $8.5 Billion to $0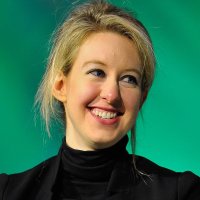 Elizabeth Holmes (photo: Steve Jennings, Getty Images)
By Associated Press
NEW YORK (AP) — Forbes has revised the net worth of the woman it crowned America's richest self-made woman last year from $4.5 billion to nothing.
Forbes says its estimate of Elizabeth Holmes' wealth is based entirely on her 50 percent stake in troubled blood-testing startup Theranos. The company acknowledged in April that it's under investigation by several regulators and agencies following a series of reports by The Wall Street Journal in which former employees said the company's tests were unreliable. The tests use only a few drops of blood.
Theranos said the articles were inaccurate when they were published.
Forbes says its previous estimate of her wealth came from a $9 billion valuation for the company in 2014.
The 32-year-old Holmes started Palo Alto, California-based Theranos in 2003 and remains its CEO.
To Learn More:
China Bumps U.S. Down to #2 as Nation with Most Billionaires (by Noel Brinkerhoff, AllGov)
SBI Error Turns Domestic Help Into Billionaire (by Karan Singh, AllGov India)
Defining "Rich" Depends on How Rich—or Poor—You Are (by Noel Brinkerhoff, AllGov)
Billionaires Aplenty in a State Ravaged by Poverty (by Ken Broder, AllGov California)