China Bumps U.S. Down to #2 as Nation with Most Billionaires
Saturday, October 17, 2015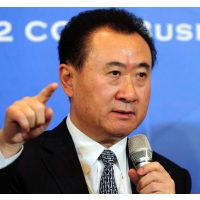 Wang Jianlin, China's richest billionaire (photo: Getty Images)
China appears to have surpassed the United States as the country with the most billionaires.
Hurun, a Chinese-based wealth research and luxury-advisory company, has reported China had 596 billionaires as of August. The U.S. had 537 billionaires, putting it in second place.
Hurun claimed China's billionaire population grew dramatically from 2014 to 2015 by 70%, adding 242.
"Despite the slowdown in the economy, China's richest have defied gravity, recording their best year ever, and creating more wealth than any country has ever done before in a year," Rupert Hoogewerf, the Hurun Report's chairman and chief researcher, said according to CNBC.
The firm's numbers were dramatically different from those of Forbes, which reported in March that China had only 213 billionaires, compared with 536 in the U.S. CNBC said Hurun's numbers may be the product of some "fuzzy math" for calculating billionaires.
The business news network also noted that Hurun's billionaires list was created at the beginning of China's stock market swoon — "so it's unclear how much wealth was destroyed during the remainder of August and September. At the time of the list's cutoff, stock markets were already 30 percent off their June peak, but have dropped another 14 percent since," Robert Frank reported.
If Hurun's calculations are accurate, China's billionaire club controlled $2.1 trillion. China's richest man as of August was Wang Jianlin, chairman of conglomerate Dalian Wanda, with $34.4 billion, up 52% from last year, according to the Associated Press.
-Noel Brinkerhoff
To Learn More:
U.S. Dethroned as World's Billionaire Capital (by Robert Frank, CNBC)
Survey Finds China Passes U.S. in Number of Billionaires (Associated Press)
India Has World's Third-Largest Number of Billionaires (by Atish Patel, Wall Street Journal)
Hurun Rich List 2015 (Huran Report)
Nearly 1 in 14 of the World's Billionaires Lives in California (by Ken Broder, AllGov California)
Chinese "Communist" Legislature Includes 31 Billionaires (by Noel Brinkerhoff, AllGov)