More Police Charged with Murder in Past 5 Months than Average 2-Year Total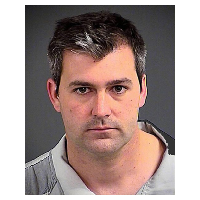 Mug shot of patrolman Michael Slager, indicted for the murder of Walter Scott (photo: Charleston County Sheriff's Office, AP)
Amid a national debate over the use of deadly force by law enforcement, police officers this year are being charged with murder at a higher rate than what was seen in previous years.
At least 14 officers have been charged in the past five months with committing murder, homicide, or manslaughter while on duty, according to Conor Friedersdorf at The Atlantic. This total is higher than the average two-year total of cops charged for on-duty killings. From 2005 to 2011, there were 46 cases of officers charged for on-duty killings of any kind, or 6.5 cases per year on average, which produces a total of 13 cases over two years, reported Friedersdorf.
But looking at this year, if the rate of the past five months is annualized, the total for 2015 would reach 33, "more than five times the usual rate," Friedersdorf pointed out.
"And while it may be that the five-month period we're in now will look like just an unusual cluster, if the rate at which cops are indicted for killings continues at this pace, then we're witnessing a sharp disjuncture with the recent past," he wrote.
-Noel Brinkerhoff
To Learn More:
The Number of Cops Indicted for Murder Spikes Upward (by Conor Friedersdorf, The Atlantic)
When Counting How Many People are Killed by Police, Online Databases do a far better Job than the U.S. Government (by Steve Straehley, AllGov)
U.S. Cops Kill more People on an Average Day than U.K. Police do in a Year (by Noel Brinkerhoff and Danny Biederman, AllGov)
Thousands Dead, Few Prosecuted (by Kimberly Kindy and Kimbriell Kelly, Washington Post)
Most Police Shootings Don't Lead to Prosecution of Police (by Noel Brinkerhoff, AllGov)