Montana Republicans Fail to Stop Transfer of Dam to Native Americans Based on their Business and Cultural Exchanges with Turkey
Monday, September 14, 2015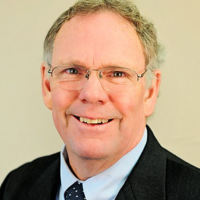 Montana State Sen. Bob Keenan
A Montana state legislator was among those unsuccessfully suing to stop the transfer of a hydroelectric dam to Native American tribes because they had dealings with Turkey.
The Kerr Dam was built in the 1930s on a place of spiritual importance to the tribes, according to Nick McCann of Courthouse News Service. Beginning in 1985, the Confederated Salish and Kootenai Tribes have owned a share of the dam, working toward full ownership, set to be transferred this month. But before the turnover, State Senator Bob Keenan and former state Senator Verdell Jackson, both Republicans, sought an injunction to stop the transfer because of the tribes' business and cultural connections with Turkey, a U.S. ally and member of NATO.
"It would appear that this setting would provide Turkey and such organizations with the opportunity to more freely promote their brand of Islam on reservations and/or to pursue other potentially more dangerous activities," the suit, filed against members of the Federal Energy Regulatory Commission, Interior Secretary Sally Jewell, Assistant Secretary of Indian Affairs Kevin Washburn, and U.S. Fish and Wildlife director Dan Ashe, read.
It went on to charge that the transfer would give the Turks "access to the uranium deposits and bountiful water sources surrounding the Flathead Reservation for production of yellowcake capable of later conversion to a gaseous state for eventual use in incendiary devices."
U.S. District Court Judge Rudolph Contreras quickly denied (pdf) the request for an injunction, writing that the plaintiffs had failed to substantiate any of their claims.
The Confederated Salish and Kootenai Tribes got to celebrate their purchase of the dam on schedule, September 5. They also changed its name to the Salish Kootenai Dam.
-Steve Straehley
To Learn More:
Montana Tribes Celebrate Purchase of Hydroelectric Dam (by Nick McCann, Courthouse News Service)
Late Lawsuit Seeks to Stop Tribes From Acquiring Kerr Dam (by Vince Devlin, Missoulian)
Bob Keenan, et al., vs. Norman C. Bay, et al. (Courthouse News Service (pdf)