Michigan Voter Fined, Loses Voting Right and May Face Prison Time for "Ballot Selfie"
Wednesday, September 14, 2016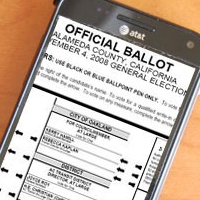 (photo illustration: Steve Straehley, AllGov)
By Lorraine Bailey, Courthouse News Service
(CN) — A Michigan voter filed a federal lawsuit challenging the state's law barring camera use in voting booths and imposing jail time for taking a ballot selfie.
In the 2012 general election, Joel Crookston wrote in his friend's name for the office of Michigan State University trustee, took a "selfie" of his ballot with his phone and then posted it on Facebook.
"For this activity, Michigan law requires the rejection of Crookston's ballot and forfeiting his right to vote in a primary or general election," according to his complaint (pdf) filed Friday in Western Michigan Federal Court.
He could also be fined $500 or even imprisoned for a maximum term of 90 days for taking a photo in a polling place, as Michigan law prohibits anyone but credentialed media from taking pictures in a polling place. The Secretary of State's rules provide that no one may use a cellphone once they have entered the voting station.
Although ballot photography is illegal in nearly every state, thousands of people nationwide take "ballot selfies" on Election Day because the laws are almost never enforced.
Federal judges struck down similar laws in Indiana and New Hampshire last year. The social networking app Snapchat filed an amicus brief in New Hampshire, claiming that users take thousands of "snaps" from inside voting booths around the country. The First Circuit heard the state's appeal of the New Hampshire ruling Tuesday.
Ballot selfies are also illegal in California, but may soon be legal if Gov. Jerry Brown signs a bill recently passed by the Legislature.
Ballot photography is legal in New York, North Dakota, Oregon, South Carolina, Vermont and Washington, but even in some of these states, sharing the photo on social media could get a voter into trouble.
"Many voters take ballot selfies and post them to social media sites like Facebook on Election Day, and it is a powerful form of free speech," said Crookston's attorney Stephen Klein of the Pillar of Law Institute. "Instead of just telling people whom they voted for, voters can actually prove whom they voted for — there's just no other way to do that so convincingly. But the Secretary of State prohibits this. This is not just a case against silly rules; it's a case against unconstitutional censorship."
The Pillar of Law Institute is a Washington, D.C.-based public-interest law firm dedicated to defending free-speech rights.
Now that Crookston is aware of the Michigan law, he does not intend to take another ballot selfie.
But "if it were not for Michigan law and the Secretary's rules, Crookston would engage in taking selfies and ballot selfies in future elections," his complaint states. "Compliance with the law and the Secretary's orders requires Crookston to sacrifice his right to free speech under the First Amendment."
Klein said ballot selfies do not threaten the state's ability to maintain the integrity of voters' ballots.
"Crookston's lawsuit simply calls for recognition that the photography restrictions need to be narrower and not threaten people with jail time for photographing and publishing their own ballots," Klein said.
Michigan's Secretary of State did not immediately respond to a request for comment Tuesday.
To Learn More:
Joel Crookston v. Ruth Johnson (U.S. District Court for Western District of Michigan) (pdf)
Outlawing of "Ballot Selfies" Hits the Courts (by Noel Brinkerhoff, AllGov)