Outlawing of "Ballot Selfies" Hits the Courts
Wednesday, August 26, 2015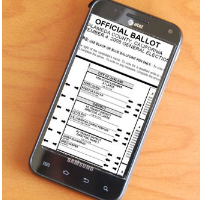 (photo illustration: Steve Straehley, AllGov)
People have taken selfies just about everywhere, and that includes the voting booth. But snapping pictures of people with their ballots has resulted in some laws banning the practice. Now, the matter has hit the courts.
New Hampshire state lawmakers voted last year to ban so-called "ballot selfies." Opponents of ballot selfies say they could lead to vote buying or voter intimidation. Legislators feared, for instance, that a selfie could be used as proof that a voter had cast his or her ballot a certain way to collect payment. The New Hampshire law said anyone showing photographs of their completed ballots to others or posting them online could be fined up to $1,000.
The American Civil Liberties Union objected to the statute, claiming it violated free speech and the right of political expression. The ACLU sued the state and won its case in federal court.
U.S. District Judge Paul Barbadoro struck down the law after concluding the state provided no evidence of "an actual or imminent problem with images of completed ballots being used to facilitate either vote buying or voter coercion." Barbadoro ruled (pdf) the law invalid because "it is a content-based restriction on speech that cannot survive strict scrutiny." The decision follows a recent Supreme Court ruling that put tight restrictions on laws that threatened free speech.
The decision probably won't be the last word on the issue, as New Hampshire says it plans to appeal. Indiana recently adopted a law banning ballot selfies, while Maine, Oregon and Utah allow the posting of these images.
-Noel Brinkerhoff
To Learn More:
Selfies in Voting Booths Raise Legal Questions on Speech and Secrecy (by Erik Echholm, New York Times)
Is a Ballot-Booth Selfie Free Speech, or a Threat to the Sanctity of the Secret Vote? (by Robert Barnes, Washington Post)
Leon Rideout v. William Gardner (U.S. District Court, New Hampshire) (pdf)
Under-the-Radar Supreme Court Freedom of Speech Case Sends Shockwaves through Courts and Legislatures (by Steve Straehley, AllGov)
More People Posting Ballot Selfies Online in Protest of Law; Legislators Say They Will Move To Repeal (by Jonathan Van Fleet, Concord Monitor)