First-Ever Murder at Supermax Prison Leads to Security Concerns for Jurors at Trial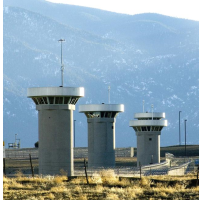 Supermax prison (photo: Chris McLean, Pueblo Chieftain, AP)
The first-ever murder trial to come out of the nation's highest-security prison has prompted the judge in the case to assign jurors special anonymous identifiers as a security precaution. Members of the Denver, Colorado, jury deciding the fates of Silvestre "Chikali" Mayorqui-Rivera and Richard "Chuco" Santiago are only being identified by their initials and four-digit numbers.
Mayorqui-Rivera and Santiago are accused of beating to death Manuel "Tati" Torrez, who was a Mexican Mafia gang leader. Rivera also was part of the violent Mexican Mafia.
The killing occurred on April 21, 2005, inside the "supermax" prison in Florence, Colorado, known as Administrative Maximum U.S. Penitentiary, or ADX. It was the first homicide inside ADX.
The defendants are accused of attacking Torrez in the prison yard, resulting in the gang leader suffering a cracked skull, 18 broken ribs, his eyes swollen shut and his left ear becoming so swollen that it didn't appear to be an ear, according to prosecutor Valeria Spencer.
After a juror asked if it was safe to be involved with the trial, District Judge Robert Blackburn remarked: "Our security protocol is robust and comprehensive both inside and outside of court."
He added: "Without trying to sound immodest, our security record is impeccable."
-Noel Brinkerhoff
To Learn More:
Denver Jurors View Video of Fatal Inmate Beating at Federal ADX Prison (by Kirk Mitchell, Denver Post)
Trial Begins in Murder Case Featuring Prison Gang Leader, Former Mexican Mafia Boss (by Kirk Mitchell, Denver Post)
Amnesty International Criticizes Conditions at U.S. Supermax Prison that Houses Terrorists (by Noel Brinkerhoff and David Wallechinsky, AllGov)
Al-Qaeda Terrorists in U.S. Prisons? They're Already Here (by Noel Brinkerhoff, AllGov)