Amnesty International Criticizes Conditions at U.S. Supermax Prison that Houses Terrorists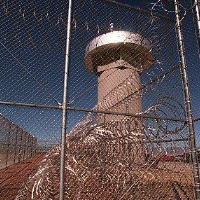 Supermax Prison, Florence Colorado
A leading human rights organization has blasted the United States for operating a torturous prison that houses terrorists and other convicted criminals.
The U.S. Penitentiary, Administrative Maximum Facility, or ADX, in Florence, Colorado has been described as "a clean version of hell" by some prison officials, lending credence to the current criticism by Amnesty International.
In its new report, Amnesty accuses the federal government of "callous and dehumanizing" practices in which prisoners are subjected to round-the-clock isolation for years at a time.
The conditions inside ADX amount to "cruel, inhuman or degrading treatment or punishment and is in violation of international law," the human rights group said.
Nearly 500 inmates reside at the supermax facility, the only one of its kind operated by the federal Bureau of Prisons. Among the most notorious prisoners currently held there are Robert Hanssen, and FBI agent who pleaded guilty in 2002 to passing classified information to the Soviet Union and Russia; Terry Nichols, who was convicted of taking part in the 1995 bombing of the Alfred P. Murrah Federal Building in Oklahoma City that killed 168 people; Ted Kaczynski (aka The Unabomber) who pleaded guilty to 16 mail bombings between 1978 and 1995; Richard Reid, who pleaded guilty to a 2001 attempt to blow up an airplane with a shoe bomb; Ramzi Yousef, who was convicted of involvement in the 1993 World Trade Center bombing that killed six people; and Zacarias Moussaoui, who pleaded guilty to being an accomplice in the terrorist attacks of September 11, 2001.
ADX inmates endure 23 hours a day and sometimes more in their tiny, private cells. The one hour they're not in solitary confinement is instead spent outside—in an exercise cage often with no one else around.
"Furniture in the cells is made of poured concrete and consists of a fixed bunk, desk and a stool, as well as a shower and a toilet. Meals and showers are taken inside the cells and medical consultations, including mental health checks, are often conducted remotely through teleconferencing," according to Amnesty's report.
Many ADX inmates suffer from mental illness, but are denied treatment such as medicine and counseling, according to the report.
In addition, the prison operates with virtually no public oversight. The media cannot visit prisoners in person nor talk to them by phone. Mail sent to inmates is heavily censored or not delivered at all.
Amnesty International recommends that prisoners have more opportunity to interact with staff and other prisoners; that use of restraints be minimized; and that efforts be made to facilitate easier communication between inmates and their attorneys.
-Noel Brinkerhoff, David Wallechinsky
To Learn More:
Entombed: Isolation in the U.S. Federal Prison System (Amnesty International) (pdf)
Federal Supermax in Colo Condemned as Torturous (by Susan Greene, Colorado Independent)
Al-Qaeda Terrorists in U.S. Prisons? They're Already Here (by Noel Brinkerhoff, AllGov)