Federal Appeals Court Rules Butt Dialers Give up Right to Privacy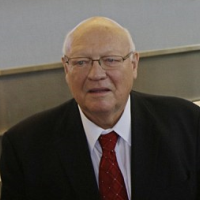 James Huff (AP photo)
If your butt calls someone, watch what you say because a federal appeals court has ruled those who "pocket dial" do not have a reasonable expectation of privacy.
James Huff, former chairman of the Kenton County Airport Board that oversees the Cincinnati/Northern Kentucky International Airport, lost his appeal before the Sixth Circuit Court of Appeals after claiming his ex-assistant had illegally listened into his phone conversation two years ago.
Huff was attending a conference in Italy in October, 2013, when the incident occurred. Seated on his hotel balcony, Huff was engaged in a lengthy conversation with his board vice chairman when the phone in his pocket unintentionally dialed his offices in Kentucky. Unbeknownst to Huff, the call was received by his assistant, Carol Spaw.
Spaw listened to Huff's conversation for 90 minutes, recording portions of it and making notes. She claims she did this because Huff was talking about replacing the board's CEO, which Spaw said involved illegal discrimination. She then passed the recording and notes to members of the airport board.
Huff claimed Spaw's actions—which also included recording a private conversation between Huff and his wife—violated a federal wiretap law as well as his right to privacy, since he never intended to "pocket dial" her in the first place. But a federal judge disagreed, ruling individuals don't have a reasonable expectation of privacy due to the common problem of pocket dialing and "butt calls." Huff then turned to the Sixth Circuit, where the justices agreed with the lower court ruling
Judge Danny Boggs wrote that "exposure need not be deliberate and instead can be the inadvertent product of neglect. Under the plain-view doctrine, if a homeowner neglects to cover a window with drapes, he would lose his reasonable expectation of privacy with respect to a viewer looking into the window from outside of his property...the doctrine applies to auditory as well as visual information."
The justices did reverse a portion of the lower court ruling by saying that Huff's wife had a reasonable expectation of privacy, which had been violated by Huff's inadvertent phone call.
They also rejected Spaw's contention that she is not liable for intercepting the phone call because she says she didn't interfere with the phone line. "Non-interference with a phone line does not, by itself, prevent an instance of phone-based eavesdropping from qualifying as an interception…" wrote Boggs. The case was returned to the district court to decide if Spaw will be held liable for her note-taking and recording of Huff's conversations.
-Noel Brinkerhoff, Danny Biederman
To Learn More:
6th Circuit Rules on Privacy of 'Pocket-Dials' (by Kevin Koeninger, Courthouse News Service)
You Are Now Liable for Your Butt Dials (by Natalie Kitroeff, Bloomberg)
Huff v. Spaw (Sixth Circuit Court of Appeals) (pdf)
Privacy Expectations are Focus of Unusual Cell Phone "Pocket Dial" Eavesdropping Case (by Noel Brinkerhoff, AllGov)