Privacy Expectations are Focus of Unusual Cell Phone "Pocket Dial" Eavesdropping Case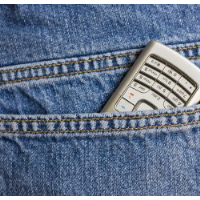 (photo: Tim Graham, Getty Images)
If a person accidentally calls someone from their cell phone, do they have a right to privacy protecting any conversation heard on the other end? The courts don't think so.
Jim Huff, then chairman of the Kenton County (Kentucky) Airport Board, which manages Cincinnati's international airport, was at a conference in Italy on October 24, 2013, when he unintentionally dialed airport offices while his phone was in his pocket and reached Carol Spaw. Spaw listened to Huff's conversation for 90 minutes, even writing down some of his remarks and passing them along to a third party.
Huff claimed Spaw's actions violated his right to privacy, since he never intended to "pocket dial" her in the first place.
But a federal judge didn't agree, ruling individuals don't have a reasonable expectation of privacy due to the common problem of pocket dialing and "butt calls."
Huff then turned to the Sixth Circuit Court of Appeals. But the appellate justices indicated during oral arguments that they weren't swayed to support his position.
Huff resigned his position on the board shortly after appealing the case. Those on the trip were also accused of excessive spending on travel and attempting to have the airport's CEO fired. The airport's insurance company is footing the bill for Spaw's defense, aside from a $100,000 deductable.
Another "pocket dial" incident, which occurred in 2011, didn't lead to a lawsuit but threw one person's privacy to the wind. An Illinois man's cell phone accidentally called his wife from his pocket while he was listening to rap music with "aggressive lyrics." Based on what she heard on the line, the wife believed that her husband was being held hostage, so she phoned police. Within moments, SWAT teams—with news reporters in tow—swarmed the school where the man worked. "He was completely safe," reported TIME, "though reportedly terrible embarrassed … perhaps over his (questionable) taste in music?"
-Noel Brinkerhoff
To Learn More:
Court Hears Pocket-Dial Eavesdropping Case (by Kevin Koeniger, Courthouse News Service)
Football Analogy Used in Football CVG Pocket Dial Case (by James Pilcher, Cincinnati.com)