Defense Dept. Employees Used Government Charge Cards at "Adult Entertainment Establishments" 900 Times in One Year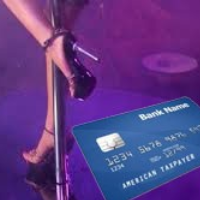 (photo: Getty Images; photo illustration: Steve Straehley, AllGov)
An investigation into the use of government-issued credit cards showed that some Pentagon employees may be using them to stuff strippers' G-strings with taxpayer dollars.
A report (pdf) from the Department of Defense's inspector general says Pentagon workers used their government-issued credit cards 900 times during the 12-month period from July 2013 through June 2014 at "adult entertainment" businesses. Those transactions totaled $96,576. The report also revealed that defense cardholders made 4,437 transactions totaling $952,258 at casinos during that period.
One example cited in the report was that of an Air Force senior airman who racked up $4,686 in charges on his government travel card at Sapphire Gentlemen's Club while on temporary duty at Nellis Air Force Base near Las Vegas. The airman later admitted to have used the card for himself and several friends in the club's VIP room.
The inspector general recommended that the Department of Defense institute stricter controls on the cards, including the possible deactivation of cards when the holder is not on travel status. The report also urged that a closer attention be paid to charges coming from strip clubs and casinos and that declined transactions be reviewed for possible personal use.
Recent revelations of government credit card abuse prompted four senators to introduce legislation that would improve detection and prevention of such waste, according to Government Executive. The Saving Federal Dollars Through Better Use of Government Purchase and Travel Cards Act would create an Office of Federal Charge Card Analytics and Review within the General Services Administration to continuously check charge card purchases by those working for federal agencies.
That bill follows an amendment attached to the House version of the 2016 defense spending bill that would prohibit the use of government-issued credit cards at adult entertainment businesses and casinos.
The Association of Club Executives, a trade group representing the strip club industry, told Government Executive in May it opposes the ban. "We trust the people who serve our country to exercise the Constitutional rights of freedom and privacy they work so hard to protect for the rest of us," Angelina Spencer, the organization's executive director said. "We also respect their right to pursue a moment of happiness in the type of entertainment they choose, whether it's a martini, a good cigar, bearing arms or bare arms."
-Steve Straehley, Noel Brinkerhoff
To Learn More:
Senators Want GSA to Catch Feds Who Use Plastic at Strip Clubs (by Charles Clark, Government Executive)
DoD Cardholders Used Their Government Travel Cards for Personal Use at Casinos and Adult Entertainment Establishments (Department of Defense Inspector General) (pdf)
Government Charge Cards Still Being Abused (Project on Government Oversight)
No More Charging Strippers to Uncle Sam's Plastic (by Kellie Lunney, Government Executive)
Pentagon Credit Cards Used for Escort Services and Casinos (by Noel Brinkerhoff, AllGov)