Convicted Terrorist Requests Transfer To Guantánamo
Friday, December 12, 2014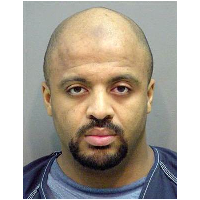 Zacarias Moussaoui (AP photo)
The man known as the "20th hijacker" of the 9/11 terrorist attacks wants to join other conspirators and detainees at Guantánamo Bay. The reason, he claims, is to escape the threats and assaults he is subjected to by inmates and guards at the "Supermax" prison in Colorado, where he is serving a life sentence.
Zacarias Moussaoui was convicted in 2005 of being part of the plot that destroyed the World Trade Center and damaged the Pentagon. He pled guilty to charges that he trained and prepared to hijack a commercial airliner and fly it into the White House.
Moussaoui has spent the past nine years at the federal super-maximum prison in Florence, Colorado. There, he claims he has been subjected to assaults and harassment by guards and even other inmates, including Ramzi Yousef, who organized the 1993 World Trade Center bombing.
He also claims those inside the prison want to murder him and that he has tried committing suicide, but failed. "So no suicide, Victory by Allah," Moussaoui wrote.
Earlier this year, Amnesty International accused the federal government of "callous and dehumanizing" practices at the Supermax prison, in which prisoners are subjected to round-the-clock isolation for years at a time.
In addition to his request for a transfer to Guantánamo, Moussaoui wrote in letters (pdf) filed with a federal court in South Florida that he has "inside knowledge about al-Qaida and the Sept. 11 plot," and wants to testify in lawsuits filed by terrorism victims, according to the Associated Press.
In addition to referring to himself as the "so-call 20th hijacker" [sic], Moussaoui says he is a "Slave to Allah."
-Noel Brinkerhoff
To Learn More:
'20th Hijacker' Zacarias Moussaoui Seeks Transfer To Guantánamo (by Curt Anderson, Associated Press)
20th Hijacker' Seeks Transfer to Guantanamo (by Dan McCue, Courthouse News Service)
Zacarias Moussaoui v. Federal Bureau of Prisons (U.S. District Court, Southern Florida) (pdf)
Amnesty International Criticizes Conditions at U.S. Supermax Prison that Houses Terrorists (by Noel Brinkerhoff and David Wallechinsky, AllGov)