California Tribe Building $10 Million Indoor Pot-Growing Facility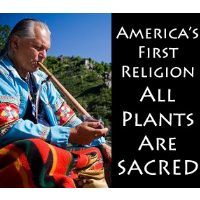 A month after the U.S. Department of Justice (DOJ) said it did not have an objection, in principle, to Indian tribes growing marijuana on their trust-held land, Mendocino, California's Pinoleville Pomo Nation (pdf) announced it was building a $10-million greenhouse facility on its 99-acre rancheria in Ukiah.
The Santa Rosa Press Democrat said county officials were caught by surprise when news of the greenhouse surfaced, but it wasn't totally unexpected. Denver-based United Cannabis Corporation (UCANN) recently announced it had signed agreements with three tribes to grow medical marijuana. It didn't identify the tribes.
There are 326 federally-recognized reservations, according to the Bureau of Indian Affairs. Around 115 of the 566 tribes recognized by the federal government are in California.
Although California legalized medical marijuana and dispensaries years ago, development of the market for growing and distributing pot has been stunted and chaotic. The federal government still considers marijuana an illegal drug and continues to intermittently crack down on growers and sellers, but the Justice Department has said cultivation and sales will be tolerated under certain conditions.
One of those conditions, for now, is a ban on large-scale productions. Most marijuana in the California market is grown by individuals and small co-operatives, and further restricted by cities and counties in the state. That could change if California places a recreational marijuana proposition on the 2016 ballot and passes it, as is widely expected.
In December, the Justice Department said it still reserved the right to enforce federal law on tribal land, which would conceivably include crop size. But the feds will be the tribes' only worry.
"They can do whatever they want," Mendocino County Chief Executive Officer Carmel Angelo told the New Press. A county zoning ordinance setting the number and location of plants does not apply to the tribes. Nor do any tax levies.
The Ukiah greenhouse(s) will be 110,000 square feet on 2.5 acres. The FoxBarry Companies announced that it was putting up $30 million as part of the United Cannabis deal to develop the growing facilities. United Cannabis will receive $200,000 in prepaid royalties and 15 percent of net sales as part of the licensing agreement.
This is big business, a business that the tobacco industry is believed poised to enter. At least 18 states have some form of legalized marijuana and momentum seems to be growing for expansion. United Cannabis became a publicly-traded over-the-counter stock last year, but it's been trading for under a buck most of that time after peaking at $16.20 in March.
That is considered a smokin' marijuana stock, according to Forbes. They listed UCANN among the eight hottest publicly-traded companies in the "cannabis economy" in November. Some of them have been around since the earliest days of medical marijuana approval more than a decade ago, offering consulting assistance to would-be pot entrepreneurs, developing products and trying to gain an early position in the burgeoning industry. Forbes warned:
"It's a Wild West atmosphere in the sector, given that the product is still, ahem, mostly illegal. A few pot companies were forced to cease trading in recent months, and the Financial Industry Regulatory Authority (FINRA) continues to actively discourage investors from putting money into cannabis stocks."
Mendocino County Supervisor Dan Hamburg told the News Press that "the tribes are just getting ahead of the game," preparing for the legalization of recreational pot. He thinks tribes, not tobacco companies, will monopolize the business. The Pomo Nation facility is expected to be finished in February.
-Ken Broder
To Learn More:
Mendocino County Officials Surprised by Tribe's Plans for Pot Farm (by Glenda Anderson, Santa Rosa Press Democrat)
United Cannabis of Denver to Help Calif. Indian Tribes Grow Marijuana (by Steve Raabe, Denver Post)
Tribes Tread Carefully into Marijuana Discussions (by Felicia Fonseca and Matthew Brown, Associated Press)
Meet the 8 Hottest Publicly Traded Marijuana Companies (by Carol Tice, Forbes)
U.S. Justice Department Says Tribes Can Grow and Sell Marijuana (by Ken Broder, AllGov California)