Americans are Increasingly Multiracial, but most who are Identify Themselves with a Single Race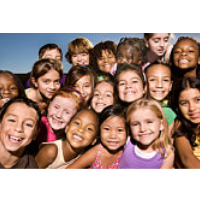 (photo: Getty Images)
Although the number of interracial people in the United States is rising, many of those of mixed race don't identify themselves as such, according to a survey.
The Pew Research Center says 6.9% of U.S. adults are now multiracial, based on a survey it recently completed. That's a much higher percentage than what the U.S. Census Bureau reported five years ago, when 2.1% reported being multiracial. Pew came up with its numbers not only by asking respondents if they considered themselves to be mixed race, but also asking what race their parents and grandparents were.
Pew found that 61% of multiracial people didn't identify themselves that way. That's particularly true of the largest racial mix in the country, white-Native American. Those people are most likely to identify as white and feel little connection to their Native American heritage, Pew found.
It was only in 2000 that the Census Bureau began to allow people to choose more than one race on their forms. The change came just as the population of multiracial people began to increase. The share of multiracial babies has risen from 1% in 1970 to 10% in 2013.
- Steve Straehley, Noel Brinkerhoff
To Learn More:
Report Says Census Undercounts Mixed Race (by Richard Perez-Pena, New York Times)
Number of Multiracial Americans Signals Shifting Social Norms (by Laura Santhanam, PBS)
Multiracial in America (Pew Research Center)
Biracial Babies on the Rise (by David Wallechinsky and Noel Brinkerhoff, AllGov)