A Bad Month for Libraries
Friday, February 06, 2015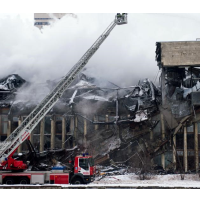 Fire-ravaged library at Moscow's INION Institute (photo: Alexander Utkin, AFP/Getty)
From Iraq to Russia, some very significant libraries have suffered serious losses to their collections, whether by accident or intent.
In Northern Iraq, extremists with the Islamic State ransacked the Central Library of Mosul last month. They reportedly seized about 2,000 books, including children's literature, poetry and philosophy, with the intent of burning them. An IS militant said the books "promote infidelity and call for disobeying Allah," according to the Associated Press.
The extremists also targeted old Iraqi newspapers dating to the early 20th century as well as maps and books from the Ottoman Empire. IS also attacked the University of Mosul's library, burning hundreds of books on science and culture. A history professor told the Associated Press there was heavy damage to the archives of a Sunni Muslim library, the library of the 265-year-old Latin Church and Monastery of the Dominican Fathers and the Mosul Museum Library with works dating to 5000 BC.
Books and documents also went up in flames in Russia, for a different reason. In Moscow, the country's largest collection of humanities and social sciences caught fire Jan. 30 at the Academic Institute of Scientific Information on Social Sciences (INION). INION contains millions of records, including 14.2 million texts in both ancient and modern European and Asian languages, some 400 years old.
Authorities said the fire may have destroyed 15% of the library's collection, or about 2 million documents.
-Noel Brinkerhoff
To Learn More:
Iraqi Libraries Ransacked by Islamic State Group in Mosul (by Sinan Salaheddin and Sameer N. Yacoub, Associated Press)
Massive Blaze Devastates Russian Library Housing Unique Documents, Ancient Texts (RT)
'Like Chernobyl': Millions of Unique Texts Feared Lost in Moscow Library Fire (RT)