6 of 21 House of Representatives Committees will be Headed by White Male Texas Republicans
Monday, December 29, 2014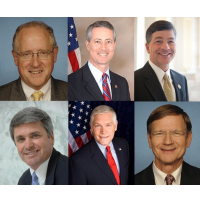 House of Representatives Committee Chairman from Texas-Top row- Conaway, Thornberry, Hensarling; Bottom row- McCaul, Sessions, Smith (photos: Wikipedia)
Texas will not lack for influence in the U.S. House when the new Congress convenes in January. Despite representing a tiny percentage of Americans, white males from the Lone Star state will occupy six of the 21 committee chairmanships. Not bad, considering white Texan men account for only 3.35% of the U.S. population.
The half dozen committee chairmanships will also represent the largest number for a state delegation since at least 1979, according to The New York Times.
The six Texas chairmen will be K. Michael Conaway (Agriculture), Mac Thornberry (Armed Services), Jeb Hensarling (Financial Services), Michael McCaul (Homeland Security), Pete Sessions (Rules), and Lamar Smith (Science, Space and Technology).
Four of them—Hensarling, McCaul, Sessions and Smith—were chairmen of their committees during the last Congress.
"The six committees that will be run by Texans starting in January all have sway over large federal programs and commercial interests, and over the operation of the House itself," the Times' Derek Willis wrote. "The Rules Committee is essentially an arm of the leadership; it determines the rules of debate for legislation on the House floor."
But Texas won't have as much sway in the House as it once did. "The Republicans having six committee chairs is certainly unprecedented, but it probably won't mean that the Texas delegation is as powerful as it was when it had the majority leader and majority whip," Sean M. Theriault, a professor in the Department of Government at the University of Texas, referring to the years 1995-2003, said in an email to the Times.
-Noel Brinkerhoff
To Learn More:
In New Congress, House Committees Will Carry a Strong Texas Accent (by Derek Willis, New York Times)
House Republicans Choose White Men to Head 20 of 21 Committees (by Noel Brinkerhoff, AllGov)