10-Year Backlog of 12,000 Untested Rape Kits in Memphis May Have Resulted in More Rapes
Wednesday, December 25, 2013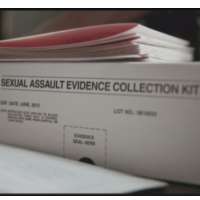 The city of Memphis, Tennessee, allowed its backlog of untested rape kits to reach 12,000 over a 10-year period, prompting one victim to sue the police department to speed up testing.
Attorney Robert Spence, who is representing the plaintiff, Jane Doe, says his client was raped 12 years ago, but her kit was never tested to help find the culprit. He also said the man who raped Jane Doe committed multiple rapes after his client's sexual assault.
The lawsuit accuses the Memphis Police Department of "a history of discriminating against females."
"Defendant treats domestic violence abuse reports from women with less priority than other crimes not involving women reporting domestic violence abuse," the complaint states.
By not processing the rape kits, police violated the equal protection clause of the U.S. Constitution, Spence claims.
The plaintiff is seeking class-action status so other victims can be included. The number could expand to 15,000, "based on the number of sexual assault and rape victims who made reports to third-party agencies during the time covered by the backlog, had rape kits done as part of their cases and who were then turned over to police for further investigation," Bill Dries wrote for the Memphis Daily News.
Memphis Police Director Toney Armstrong said his department is seeking state and federal grants so it will have the necessary resources to address the backlog.
"I certainly welcome any and all legislation that we can have to put in place to hold me accountable as a director to hold my investigators accountable moving forward so we won't have this problem again," he told WMCTV.
Nevertheless, City Chief Administrative Officer George Little says it could take several years to process the entire collection of untested kits.
The police department intends to construct a center with a laboratory specifically for testing and processing rape kits.
-Noel Brinkerhoff
To Learn More:
Rape Kit Lawsuit Filed Against City of Memphis (WMCTV)
Rape Kit Backlog Lawsuit Shifts Questions (by Bill Dries, Memphis Daily News)
Class Claims Memphis Spoiled 15,000 Rape Kits (by Kevin Lessmiller, Courthouse News)
Illinois City Sued for Not Testing Hundreds of Rape Kits (by Noel Brinkerhoff and David Wallechinsky, AllGov)
Murder and Rape DNA Test Backlog Hits 350,000 (by Noel Brinkerhoff, AllGov)