Who are the 5 Guantánamo Prisoners U.S. Traded for Only POW Held by Taliban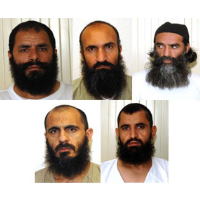 Guantanamo prisoners exchanged for Bowe Berdahl-Top, from left, Fazl, Khairkhwa, Noori, Bottom, from left, Omari, Wasiq (photos: U
The release of Army Sergeant Bowe Bergdahl, the only remaining American prisoner of war in the Afghanistan conflict, came at a steep price considering the number and importance of the Taliban detainees freed in the exchange.
It was a five-to-one swap negotiated by the Obama administration, which has taken flak from conservatives for not informing Congress about the deal until after the fact and because of who was released from Guantánamo in order to secure Bergdahl's freedom following five years of captivity.
Representative Mike Rogers (R-Michigan), chairman of the House Intelligence Committee, claimed the release of the Taliban leaders "will threaten the lives of American soldiers for years to come."
However, Defense Secretary Chuck Hagel said the exchange was necessary in order to save Bergdahl's life and that the released prisoners won't bring harm to the United States. Hagel doesn't believe "that what we did in getting our prisoner of war home would in any way encourage terrorists to take hostages," he said Sunday on NBC's "Meet the Press."
As part of the agreement, the five detainees were flown from the U.S. facility in Cuba to Qatar, which brokered the exchange. The Qatari government said the Taliban members will be prevented from leaving the country for one year, and the U.S. ally promised to work to ensure American national security does not become compromised by the release.
The five detainees included two senior militant commanders reportedly linked to the killing of American and allied soldiers, as well as thousands of Shiites in Afghanistan.
The one with the highest political rank is Khairulla Said Wali Khairkhwa, whose involvement in the Taliban dates back to 1994. He served as interior minister while the Taliban ruled Afghanistan and as governor of Herat province, which may have provided him with access to Osama bin Laden, according to American reports.
Another key Taliban member is Mullah Mohammad Fazl, who was deputy minister of defense and fought against the U.S. coalition following the U.S. invasion of Afghanistan in October 2001. The United Nations has accused Fazl of orchestrating the murders of thousands of Afghan Shiites during the Taliban rule.
The third prisoner was Abdul Haq Wasiq, once the deputy chief of the Taliban's intelligence service. He used his office to support al-Qaeda and facilitated al-Qaeda personnel's training of the Taliban, according to a U.S. assessment.
During the Taliban's rule, Mullah Norullah Nori served as governor of Balkh and Laghman provinces and helped lead the resistance against the Northern Alliance in 2001. He is wanted by the UN for possible war crimes, including the murder of thousands of Shiites.
The last of the detainees is Mohammad Nabi Omari, said to be one of the most significant former Taliban leaders detained. He had strong operational ties with al-Qaeda and Hezb-e-Islami Gulbuddin, another militant group, and worked as the Taliban's chief of communications.
-Noel Brinkerhoff
To Learn More:
Bowe Bergdahl, American Soldier, Freed by Taliban in Prisoner Trade (by Bowe Bergdahl, New York Times)
The Gitmo Detainees Swapped for Bergdahl: Who are They? (CNN)
Who Are the 5 Guantanamo Detainees in Prisoner Swap? (by Eyder Peralta, National Public Radio)
Khirullah Said Wali Khairkhwa (New York Times)
Mullah Mohammad Fazl (New York Times)
Mullah Norullah Noori (New York Times)
Abdul Haq Wasiq (New York Times)
Mohammad Nabi Omari (New York Times)
Republicans Criticize Prisoner Swap That Freed Sgt. Bowe Bergdahl (by David S. Cloud, Los Angeles Times)
Parents of Only U.S. Soldier Held as POW in Afghanistan Don't Trust Obama to Help in Election Year (by Noel Brinkerhoff, AllGov)