Water Wars on Horizon as Trump-Emboldened Forces Target Clean Water Rules
Thursday, December 29, 2016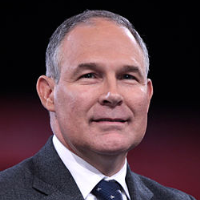 Scott Pruitt
By Greg Bluestein, New York Times
ATLANTA -- Georgia Attorney General Chris Carr urged President-elect Donald Trump to repeal new water regulations once he's in the White House, joining counterparts in two dozen states who want one of Barack Obama's top environmental initiatives to go out the door with him.
Carr, who was appointed by Gov. Nathan Deal to the post in October, followed a path laid out by his Republican predecessor Sam Olens in challenging the 2015 clean water rules.
"We believe in fiercely protecting our citizens against unlawful federal overreach," Carr said this week, "and we will continue working with those who share this mutual concern to bring these matters to President-elect Donald Trump's attention for quick resolution."
The sharply written letter likely marks a turning point for the GOP-controlled office.
Olens, who left office to become the president of Kennesaw State University, spent much of the past eight years opposing programs and regulations laid out by Obama. He fought a raft of Obama policies, from his health care law to a federal transgender directive.
In less than two months in the post, Carr has signaled he'll stay the course. Carr earlier joined with other attorneys general urging Trump to toss the "Clean Power Plan," which would limit carbon emissions from power plants to meet new pollution guidelines.
But his role is about to change. When Trump takes office on Jan. 20, Carr and other Republican attorneys general will go from aggressively challenging Obama's most contentious policies in court to providing legal backup for Trump's agenda.
And the law departments in Democratic-run states are set to take the offensive, challenging Trump's efforts to roll back Obama's policy at every turn. Already, California Gov. Jerry Brown has warned he'll go to extreme lengths to fight Trump if he tries to ditch Obama's global warming initiatives.
"If Trump turns off the satellites," Brown said of concerns the federal government could curb climate monitoring, "California will launch its own damn satellite."
The water regulations in Carr's crosshairs would allow the Environmental Protection Agency and Army Corps of Engineers to regulate tributaries to rivers and streams under the Clean Water Act (pdf). Environmental groups calculate that 57 percent of Georgia's streams, amounting to about 40,000 miles of flowing water, would fall under that umbrella.
Obama and other supporters of the regulations, known as the "Waters of the USA," argue that they would restore protections to streams and other waterways. They contend that rivers used for fishing, recreation and drinking can only be clean if the creeks feeding them are protected.
"Cleaner tributaries lead to cleaner water," said Joe Cook of the Coosa River Basin Initiative. "A lot of the criticism is overblown -- it's much ado about nothing. This all seems kind of silly to me."
The water rules were targeted from the get-go from developers and farmers who claimed they could block routine tasks such as fertilizing near drainage ditches, draining small ponds and building small structures near waterways. The EPA counters that the concerns have been exaggerated, and that the rule maintains long-standing farming exceptions.
Congress passed a measure to overturn the law -- House Speaker Paul Ryan called it a "power grab" -- which Obama swiftly vetoed in January.
The legal battle over the changes started in June 2015, when Georgia and eight other states challenged the rule as an attempt to "usurp the states' primary responsibility" to oversee water resources. It has been blocked by a federal court while a judge considers the legal case.
Trump's upset victory over Democrat Hillary Clinton, though, has encouraged opponents of the regulations.
Scott Pruitt, the Oklahoma attorney general who is Trump's pick to head the EPA, is one of the agency's most outspoken critics -- and a plaintiff in the legal challenge against the water rule. And opponents argue it's among the easiest of Obama's policies to undo, either through legislation or through the executive branch's rule-making authority.
Green groups, meanwhile, are quick to point out Trump's comments that "crystal clear water" is vitally important to the U.S. economy. Ted Terry, director of the Georgia chapter of the Sierra Club, said environmental groups are hoping he's willing to compromise over the nascent water rules.
"They've got to get out of the mindset that everything that Obama did was bad," said Terry. "To repeal it is just incredibly short-sighted. We have to recognize that this type of pollution effects the fish we eat, the water we irrigate our fields with and the water we drink."
To Learn More:
Nation's Top Climate-Change Fighter, California, is ready to roll up Sleeves and Go It Alone (by Adam Nagourney and Henry Fountain, New York Times)
Will Trump Scrap NASA's Climate Research Mission? (by Andrew Revkin, ProPublica)
It's Not Just Flint: Water Supplies in many U.S. Cities are Contaminated by Lead (by Michael Wines and John Schwartz, New York Times)
After more than 4 Years, Bureau of Land Management Finally Issues Rules to Protect Drinking Water from Fracking…but only on Public Lands (by Steve Straehley, AllGov)
Who Rules West Virginia? Lawmakers Want to Weaken Clean Water Protections One Year after Toxic Spill Ruined Drinking Water for 300,000 (by Noel Brinkerhoff, AllGov)
100,000 Water Pollution Violations a Year (by Noel Brinkerhoff and David Wallechinsky, AllGov)