After more than 4 Years, Bureau of Land Management Finally Issues Rules to Protect Drinking Water from Fracking…but only on Public Lands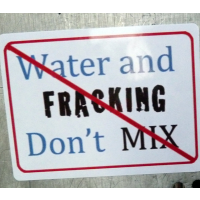 (photo: ecowatch.org)
The Interior Department has finally updated the rules companies must follow if they're using hydraulic fracturing, or fracking, to drill for oil and gas. Unfortunately, most Americans won't benefit from the new regulations protecting water quality.
The regulations (pdf), released Friday after being developed since November 2010, apply only on public lands and Indian reservations under the administration of the Interior Department. Fracking on private land, where about 75% of it is done, is not affected. More than 100,000 oil and gas wells have been drilled on federally managed lands, about 90% of which are fracking wells.
The regulations address several main concerns, according to Abrahm Lustgarten at ProPublica.
Drillers will be required to encase wells in cement when groundwater supplies could be affected.
Wells must undergo pressure tests to ensure they'll stand up to fracking without blowing out.
A geological analysis of a well site will be required before fracking begins.
The use of open waste pits to contain fracking fluids will be prohibited in most circumstances.
The fracking chemicals used, which many drillers refuse to disclose under the guise of "trade secrets," must be disclosed within 30 days of the completion of drilling.
Although most fracking wells won't be affected by the regulations, the petroleum industry and its friends in Congress are crying foul. "This is a classic case of federal overreach, with the government taking on even more control that will stifle economic growth and job creation while limiting the return to American taxpayers on the energy they all own," Tim Wigley, president of the Western Energy Alliance, said in a statement.
The industry wants to leave regulation to the states—which is more convenient for the drillers, since only 13 of the 32 states with fracking wells on federally managed land have any regulations in place at all. Sen. James Inhofe (R-Oklahoma) has already introduced a bill that would keep the federal government from regulating fracking.
In what might be described as wishful thinking, Interior Secretary Sally Jewell told reporters, "I know there are comments coming out of Congress trying to undermine this, but I think at the end of the day, the industry certainly recognizes that thoughtful regulation can help them, because it reassures the public that there are rules in place that protect them," according to The Center for Public Integrity.
Some environmental groups say the new rules don't go far enough. "The bottom line is: these rules fail to protect the nation's public lands—home to our last wild places, and sources of drinking water for millions of people—from the risks of fracking," said Amy Mall, a senior policy analyst at the Natural Resources Defense Council, in a statement. "More than ever, this underscores the urgent need to get better protections in place around the country."
Other groups see the regulations as at least a first step to ensuring clean water. "As with any rule, you can't please everyone and you can't make it perfect, but the rule will absolutely be a huge leap forward toward safer wells, improved transparency, and better protections for nearby communities," Matt Lee-Ashley, director of the Center for American Progress' public lands project, told Politico.
-Steve Straehley
To Learn More:
Progress and Controversy Arrive With New Rules for Fracking on Public Lands (by Abrahm Lustgarten, ProPublica)
Interior: New Fracking Rules Are Good For Public, Industry (by Jamie Smith Hopkins, Center for Public Integrity)
Interior's New Fracking Rules Get Swift GOP Backlash (by Elana Schor, Politico)
Final Rule (Department of the Interior) (pdf)
State Quickly OKs Fracking Regulations; Environmental Studies Still TK (by Ken Broder, AllGov California)