U.S. Marshals Seize Surveillance Documents from Police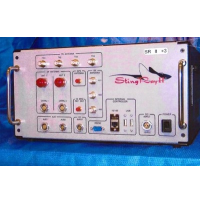 Harris Corporation's StingRay (photo: U.S. Patent and Trademark Office)
The American Civil Liberties Union (ACLU), which was contesting Florida police's use of surveillance technology, got quite the surprise recently when federal marshals unexpectedly confiscated police records pertaining to the controversial program that had been requested by the ACLU.
The organization sought the documents through the state's public records law, and was to have reviewed them at a police station in Sarasota when members of the U.S. Marshals Service swept in and took the files. The federal authorities insisted the records belonged to them and didn't want the police to release them to the ACLU.
Nathan Freed Wessler, an ACLU lawyer, told Wired that the Marshals' actions were "truly extraordinary," but also "consistent with what we've seen around the country with federal agencies trying to meddle with public requests for StingRay information."
StingRay refers to a new tool used by law enforcement to spy on suspects, often without approval from a judge. Resembling cell phone towers, StingRays allow police to capture mobile phone data and even triangulate a device's location.
Wessler added that the federal government has been "working very hard" to keep the public from learning about StingRay, even using the Homeland Security Act to prevent the release of such records.
The ACLU is concerned about the Sarasota police's practice of using the technology without obtaining a probable-cause warrant. Instead, they have employed StingRay under Florida's "trap-and-trace" statute, which is usually used only to have a phone company report numbers called and received by a specific account. The ACLU says the StingRay is more invasive than a trap-and-trace, and should require a regular warrant.
StingRay also has been controversial because its manufacturer, Harris Corporation, has required police to sign non-disclosure agreements in order to use the technology, leading them to use it without even telling the courts of their surveillance work.
-Noel Brinkerhoff
To Learn More:
U.S. Marshals Seize Cops' Spying Records to Keep Them From the ACLU (by Kim Zetter, Wired)
Barfield and ACLU Sue Sarasota over 'StingRay' Surveillance (by Ian Cummings, Herald-Tribune)
Florida Cops' Secret Weapon: Warrantless Cellphone Tracking (by Kim Zetter, Wired)
Local Police Departments Use Non-Disclosure Agreements to Hide Cellphone Tracking (by Noel Brinkerhoff, AllGov)
FBI Uses Portable Device to Track Cell Phone Users (by Matt Bewig, AllGov)