FBI Uses Portable Device to Track Cell Phone Users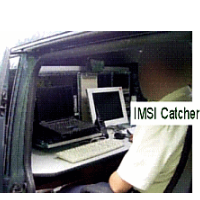 Even on dry land, Americans should fear the stingray. Not the flat cartilaginous fishes related to sharks, but the secret government surveillance device that not only tracks suspected criminals but also intercepts the private information of law-abiding citizens who happen to be nearby. Now, because of a Freedom of Information Act (FOIA) request and lawsuit brought by the Electronic Privacy Information Center (EPIC) against the FBI, the government is slowly releasing thousands of relevant documents that are already raising alarms among privacy and civil liberties advocates.
The stingray came to public notice in 2011 when the FBI used a "cell-site simulator" to track down a suspect. This portable device, also called an "IMSI catcher" or a "stingray," sends out a signal that fools nearby wireless phones into connecting with a fake network. It can then capture all sorts of personal data from all of those phones, including location data that can then be used to track a person's movements in real time. A stingray can be handheld or mounted on a motor vehicle or an unmanned surveillance drone.
As the FBI has admitted to EPIC, because the stingray fools all nearby wireless phones into connecting with its bogus network and uploading private data to it, its use would constitute a "search and seizure" under the Fourth Amendment to the Constitution and thus require a warrant. However, because the FBI argues that wireless phone users have no reasonable expectation to privacy, the agency says it does not need a warrant. The Supreme Court has not yet ruled on the privacy of cell phone calls.
In addition to (probably) violating the constitution, the use of stingrays is also prohibited by federal law. Although heavily redacted, the files reluctantly released by the FBI reveal snippets of internal Justice Department discussions of how to justify use of the stingray as compliant with the provisions of the Communications Act that prohibit "interference" with communication signals like those of wireless phones.
These documents demonstrate, according to EPIC attorney Alan Butler, that "there are clearly concerns, even within the agency, that the use of Stingray technology might be inconsistent with current regulations. I don't know how the DOJ justifies the use of Stingrays given the limitations of the Communications Act prohibition."
Nor is it just the FBI. According to a recent report, local police are "quietly" using stingrays in Los Angeles, Miami, Fort Worth, and Gilbert, Arizona. And likely other places, as well.
-Matt Bewig
To Learn More:
FBI Documents Shine Light on Clandestine Cellphone Tracking Tool (by Ryan Gallagher, Slate)
EPIC v. FBI - Stingray / Cell Site Simulator FOIA Case (Electronic Privacy Information Center)
"Stingray" Phone Tracker Fuels Constitutional Clash (by Jennifer Valentino-DeVries, Wall Street Journal)
Judge Questions Tools That Grab Cellphone Data on Innocent People (by Jennifer Valentino-DeVries, Wall Street Journal)