U.S. House of Representatives' Chaplain Accused of Discriminating Against Atheism and Minority Religions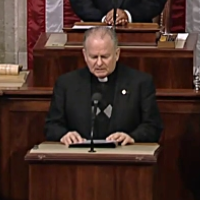 Chaplain Patrick Conroy leads prayer in session of U.S. House of Representatives (photo: Getty Images)
WASHINGTON (CN) — The chaplain of the House of Representatives discriminates against atheists and minority religions by preventing them from giving the prayer that opens each day in Congress, an atheist claims in court.
Every day, before the U.S. House of Representatives begins its business, a chaplain comes to the floor and delivers a short prayer. Usually this job falls to the House of Representative's elected chaplain, but he often gives this honor to a guest sponsored by a member of the House.
While the invocation can come from any religion, Christian prayers make up more than 96 percent of the invocations given on the House floor thanks to the tight restrictions the House chaplain puts on guest speakers, claims Daniel Barker, a former Christian evangelist turned atheist and co-president of the Freedom From Religion Foundation.
"In this case, at the seat of our national government - in the congressional chamber based on proportional representation - the chaplain is dividing and excluding citizens based on their religious or nonreligious beliefs," Barker claims in a lawsuit filed Thursday in Washington, D.C. Federal Court.
Barker first looked into delivering the daily prayer a month after the U.S. Supreme Court's 2014 ruling in Town of Greece v. Galloway (pdf), which held that legislatures can hold prayers before their meetings as long as they don't prevent people from abstaining or discriminate against minority faiths, according to the complaint.
In February 2015, Rep. Mark Pocan, D-Wis., asked Father Patrick Conroy, the Roman Catholic Priest who serves as House chaplain, to let Barker give an invocation.
Two days later, the House Chaplain's Office reached out to Barker to provide his biography, contact information and proof of ordination in order to "check his credentials," according to Barker.
But Conroy later told Pocan he was skeptical Barker could give an invocation and suggested he might be able to put his mind at ease if he saw a draft of Barker's planned prayer, the lawsuit states. This request concerned Barker, who waited until June 2015 to let Conroy review his invocation.
"Barker was reluctant to provide his remarks because he believed that Chaplain Conroy was imposing requirements on him because of his atheism that the chaplain would not impose on other guest chaplains, including a more substantial vetting process and submitting the invocation for pre-approval," Baker's complaint states.
Barker waited four months for a response from Conroy, but received none. When he asked the Chaplain's Office about the wait, he was told the office didn't think his request was "genuine," according to the 29-page lawsuit.
The office formally denied his request in December, a year and a half after he first looked into giving the invocation.
Barker claims the denial was not just a personal inconvenience, but evidence of the chaplain's larger practice of discriminating against minority religions.
Since 2000, nearly 97 percent of guest invocations have come from Christians, although just 70 percent of the country identifies as Christian, Barker claims.
Jewish representatives gave the second-most invocations, with just less than 3 percent, according to the complaint. Barker says atheists and agnostics have not given a single invocation in the past 16 years.
To give the invocation, the Chaplain's Office required Barker to be sponsored by a member of the House, prove he was ordained, and agree to not directly address House members but instead a "higher power," according to Thursday's lawsuit.
Barker met all three of these "unwritten" requirements, but religions that don't recognize or ordain clergy members or those that do not worship god-like powers would never be able to clear the office's hurdles, Barker claims.
"Chaplain Conroy's unwritten requirements serve to exclude minority religious and nonreligious applicants from acting in the role of guest chaplain and from receiving the benefits and notoriety that come with the position," the complaint states.
On top of this, the office has allowed numerous people to break these rules, including at least eight Muslim imams who were not ordained as well as Yolanda Adams, a gospel singer and radio show host, Barker claims.
While the office directly told Barker his request was denied because he was not a practicing member of the faith into which he was ordained, several retired pastors have given the invocation in the past, according to the lawsuit.
Barker claims the policies of the Chaplain's Office violate the establishment clause of the First Amendment and the due process clause of the Fifth Amendment. He seeks judgment declaring the office's unwritten rules invalid as well as damages for his violated rights.
Barker names Conroy, Assistant to the Chaplain Elisa Aglieco, Chaplain's Liaison to Staff Karen Bronson, Speaker of the House Paul Ryan and the House of Representatives as defendants in the case.
Andrew Seidel, a constitutional attorney with the Freedom from Religion Foundation, said while there is precedent for monetary damages in cases like these, the main goal is to give Barker a chance to give an invocation.
"Really, if you boil all of it down it's just an issue of fairness," said Seidel, whose group co-signed Barker's complaint.
The Chaplain's Office declined a request to comment on the case, deferring to the Speaker's Office, which could not be reached for comment.
To Learn More:
Arizona Legislators Say Atheist's Prayer Not Good Enough; Bring in Baptist Pastor (by Bob Christie, Associated Press)
Christian Prayers at City Council Meetings Supported by Obama Administration before Supreme Court (by Noel Brinkerhoff, AllGov)
U.S. Supreme Court Allows Sectarian Prayers at Government Meetings (by Noel Brinkerhoff and Danny Biederman, AllGov)
Who's Underrepresented in Congress? Baptists, Pentecostals and "No Religion" (by Noel Brinkerhoff, AllGov)