Christian Prayers at City Council Meetings Supported by Obama Administration before Supreme Court
Friday, November 08, 2013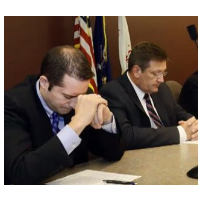 Greece council members pray at board meeting (photo: Fox News)
The Obama administration has come to the legal defense of Christians seeking the right to pray before city council meetings by making the Department of Justice take a position further to the right than it did under President Ronald Reagan.
In the case of Town of Greece vs. Galloway, the Justice Department filed a brief with the U.S. Supreme Court saying the administration supports Christian prayers before council meetings.
Erwin Chemerinsky, dean of the UC Irvine School of Law, called the move "inexplicable" in an Op-ed published by the Los Angeles Times. He added that the decision was "more befitting a Republican administration than one headed by a Democrat and a constitutional scholar."
The case stemmed out of a decision in 1999 by the Town Board of Greece, a suburb of Rochester, New York, to replace its moment of silence before meetings with prayers.
The board spent the next eight years inviting only Christian ministers to deliver the prayers, according to Chemerinsky.
During the prayers, everyone in attendance—which often included local citizens—was asked to stand and bow their heads, regardless of their religious beliefs or denominations.
Two local residents, Susan Galloway, who is Jewish, and Linda Stephens, who is an atheist, complained to the board about the prayer practice, and eventually filed a lawsuit when leaders failed to stop using only Christian clergy.
The plaintiffs won their case before a federal appeals court, which ruled (pdf) that the prayer practice "had unconstitutionally affiliated the town with Christianity," Chemerinsky wrote.
"People think we hate religion or are anti-Christian," plaintiff Galloway told the Rochester Democrat & Chronicle. "But we are trying to protect religion. Whenever government gets involved in religion, it gets corrupted. I'm standing up for religion."
Chemerinsky noted that back in the 1980s, the Reagan administration backed prayers before state legislative meetings by clergy as long as the prayers were nonsectarian.
"Remarkably, the Obama administration has backtracked from the position taken by the Reagan administration," Chemerinsky wrote. "It now argues that even explicitly sectarian prayers are permissible."
The case was argued (pdf) before the Supreme Court on Wednesday. A ruling is expected next June.
-Noel Brinkerhoff
To Learn More:
Why is the Obama Administration Bowing to Religion? (by Erwin Chemerinsky, Los Angeles Times)
Town of Greece v. Galloway: Legislative Prayer Sessions and the Establishment Clause (by Alexander Fullman, National Constitution Center)
Court Wrestling with Prayer at New York Town's Meetings (by Mark Sherman, Associated Press)
The Women behind Local Supreme Court Case (by Meaghan McDermott, Rochester Democrat & Chronicle)
Oral Arguments: Town of Greece, New York v. Susan Galloway, et al (Supreme Court of the United States) (pdf)
Jesus Gets a Shout-Out from U.S. Appeals Court after Lancaster City Prayers Are Challenged (by Ken Broder, AllGov California)