Who is Murdering Walruses in Alaska?
Thursday, September 24, 2015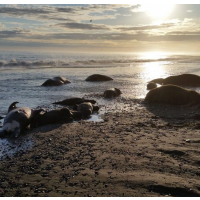 Dead walruses on Alaska beach (photo: U.S. Fish and Wildlife Service)
Twenty-five walruses, including 12 babies, were found dead last week on a remote shore in Alaska. Officials suspect poachers may be to blame.
The carcasses were spotted near Cape Lisburne, about 50 miles north of Point Hope in the Alaska Maritime National Wildlife Refuge and 230 miles northeast of the Bering Strait. The animals showed signs of being shot, and many had their heads removed.
Poachers prize walrus tusks for their ivory, leading to suspicions that the animals were killed intentionally.
Federal law prohibits the hunting of walruses. An exception is made for Alaska Natives, but they can only kill the animals for their meat—they can't just take the animals' heads. Ivory may be taken by anyone from walruses that wash up dead on the beach.
Andrea Medeiros, a spokeswoman for the U.S. Fish and Wildlife Service's Alaska Region office, told Alaska Dispatch News: "That would be an illegal take for Alaska Natives. To take walrus legally, it has to be non-wasteful take— they can't just kill an animal for the ivory, and of course non-Natives are not allowed to take walruses."
-Noel Brinkerhoff
To Learn More:
Feds Investigate Reported Slaughter of Cape Lisburne Walruses (by Chris Klint and Tegan Hanlon, Alaska Dispatch News)
25 Walruses Killed in Alaska: Another Poaching Case? (Olivia Lowenberg, Christian Science Monitor)