U.S. Government Uses Boeing Technology to Spy on Phone Calls from the Air
Sunday, November 16, 2014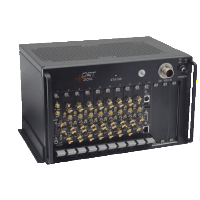 Dirtbox 2101A (photo: Internet Archive Wayback Machine)
Land-based systems to intercept cell phone calls have been in use by the federal government and local law enforcement agencies for many years. But, for at least the last seven years, the federal government has also taken to the air to sweep up information on even more calls than it could previously.
The systems electronically mimic a cell tower, enabling law enforcement to collect location and other information about calls. When used in a small plane, they pick up information about tens of thousands of calls in one flight, according to Devlin Barrett of The Wall Street Journal.
The airborne systems, run by the U.S. Marshals Service since 2007, are in use out of at least five airports in major metropolitan areas. Those familiar with the program say sweeps are being approved by judges, but since the orders are sealed, it's unclear whether the courts are aware of the breadth of the systems' coverage.
It's "a dragnet surveillance program. It's inexcusable and it's likely—to the extent judges are authorizing it—[that] they have no idea of the scale of it," Christopher Soghoian, chief technologist at the American Civil Liberties Union, told the Journal.
The systems don't discriminate between signals from suspects' phones and the many others that might be in use in a given area. This leaves innocent citizens' privacy at the mercy of federal authorities.
The equipment, manufactured by Boeing's Digital Receiver Technology (DRT) division, is referred to as a "dirtbox," a reference to the manufacturer. They can track a phone to within 10 feet of its location, good enough to pinpoint which room in a building the phone is in. The device is tuned to mimic the carrier, such as AT&T or Verizon, that a suspect is known to use and sweeps up all calls from that carrier in range.
The use of the land-based systems, sometimes known as "StingRays," by law enforcement agencies was encouraged in the wake of the 9/11 terror attacks, but they're now more likely to be employed against run-of-the-mill criminals. Agencies have been ordered by the federal government not to disclose information about the systems to the public, but they're known to be able to track hundreds of phones while activated. The dirtboxes appear to magnify this capability.
"Maybe it's worth violating privacy of hundreds of people to catch a suspect, but is it worth thousands or tens of thousands or hundreds of thousands of peoples' privacy?," Soghoian asked.
-Steve Straehley
To Learn More:
Americans' Cellphones Targeted in Secret U.S. Spy Program (by Devlin Barrett, Wall Street Journal)
The Feds Are Now Using 'Stingrays' in Planes to Spy on Our Phone Calls (by Kim Zetter, Wired)
Dirtbox Devices: 5 Fast Facts You Need to Know (by Tucker Cummings, Heavy)
DRTBOX and the DRT Surveillance Systems (electrospaces.blogspot.com)
More Police Departments than Previously Thought Use Portable Surveillance Systems to Spy on almost Everyone (by Steve Straehley and Noel Brinkerhoff, AllGov)