U.S. Chamber of Commerce Serves as International Bulldog for Tobacco Industry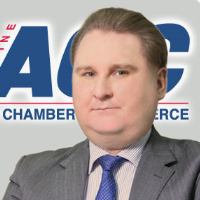 Taras Kachka was Chamber of Commerce's tobacco man in Ukraine (photo: ACC)
When foreign governments want to regulate or limit smoking in their countries, they find themselves confronted by the U.S. Chamber of Commerce, which has been quietly operating as Big Tobacco's attack dog overseas.
The New York Times found the Chamber has turned itself into "the hammer for the tobacco industry," setting up lobbying operations in Ukraine, Uruguay, Moldova, the Philippines and elsewhere to fight anti-smoking laws that are part of the growing anti-smoking movement.
A decade ago, an international treaty went into effect that mandates anti-smoking measures and seeks to curb the influence of the tobacco industry in policy making, the Times' Danny Hakim wrote. The agreement has been ratified by 179 countries, but not the United States, Cuba or Haiti.
The Chamber's zeal to help American tobacco companies has gone so far as to convince the government of Ukraine to file an international legal challenge against Australia over that country's right to enact anti-smoking laws on its own soil. Ukraine grows some tobacco, but sells none to Australia and has no economic interest in that country's tobacco business.
"To a number of [Ukrainian] lawmakers, the case seemed absurd, and they wanted to investigate why it was even being pursued," Hakim wrote. Taras Kachka, who spearheaded the effort, is the policy vice-president of a Ukrainian affiliate of the U.S. Chamber of Commerce.
The U.S. Chamber, led by Thomas Donohue, has also worked to ensure that international agreements such as the Trans Pacific Partnership won't impede the continued marketing of tobacco products in other countries.
Some of the chamber's other positions on international issues have cost it members over the years. Apple left the organization and Nike left its board when the chamber threatened to sue the Environmental Protection Agency over its greenhouse gas regulations.
-Noel Brinkerhoff, Steve Straehley
To Learn More:
U.S. Chamber of Commerce Works Globally to Fight Antismoking Measures (by Danny Hakim, New York Times)
Obama Administration Accused of Bowing to Tobacco Industry in Secret Trade Talks (by Matt Bewig, AllGov)