U.S. Ambassador to Timor-Leste: Who Is Kathleen Fitzpatrick?
Wednesday, September 20, 2017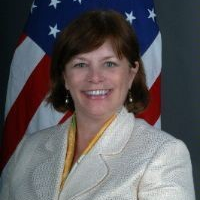 Kathleen Fitzpatrick
Kathleen M. Fitzpatrick, a career member of the Foreign Service, was nominated July 25, 2017, to be the U.S. ambassador to Timor-Leste, which is located on the eastern half of the island of Timor in Southeast Asia. If she's confirmed, it will be her first such posting.
Fitzpatrick is from Hyattsville, Maryland, and attended the University of Dayton, earning a B.A. in 1978. She then went to Georgetown and earned an M.A. in 1980. Fitzpatrick later earned an M.S. from the National War College in 1999. While attending Georgetown, Fitzpatrick joined the Civil Service before transferring to the Foreign Service in 1983.
Fitzpatrick's early postings included stints at the consulate in Antwerp, Belgium; in the Bureau of International Organization Affairs; in the Office of Maghreb Affairs in Bureau of Near East Affairs; and in the Executive Secretariat Operations Center. In 1993, Fitzpatrick began a tour as political officer in the embassy in Moscow and moved to Brussels in 1995 in a similar capacity.
She returned to Washington in 1999 to serve as deputy director in the Office of Regional Security and Arms Transfers in the Bureau of Political Military Affairs. In 2001, Fitzpatrick was named director of the Office of Nordic and Baltic Affairs in the Bureau of European Affairs. She went overseas again in 2003 as political counselor at the embassy in Madrid. Fitzpatrick returned to the United States in 2007 as director of the Office of Southern European Affairs.
Fitzpatrick was named deputy assistant secretary in the Bureau of Democracy, Human Rights and Labor in 2010 and in 2012 became chief of staff in the Office of the Under Secretary for Civilian Security, Democracy and Human Rights. In 2014, Fitzpatrick was appointed principal deputy assistant secretary in the Bureau of Intelligence and Research, a post she held at the time of her nomination as ambassador.
Fitzpatrick speaks Spanish, French, Russian, Dutch and Arabic.
-Steve Straehley
To Learn More: