U.S. Ambassador to Israel: Who Is David Friedman?
Thursday, February 09, 2017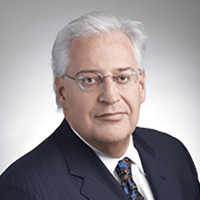 David Friedman
President Donald Trump's bankruptcy lawyer—whose work has likely saved Trump millions of dollars over the years—is set to become the next U.S. Ambassador to Israel, where he is expected to implement with enthusiasm Trump's radically pro-Israel, anti-Palestine agenda, including moving the U.S. Embassy from Tel Aviv to the divided and disputed city of Jerusalem, which both Israel and Palestine claim as their capital.
David Melech Friedman was born circa 1959, one of four children to Morris S. and Addi Friedman. His father, who was rabbi at Temple Hillel, a Conservative synagogue in North Woodmere, Long Island, served as the head of the New York Board of Rabbis. His mother was a high school English teacher. David Friedman, too, considered becoming a rabbi, but his father told him, "You're out of your mind, go make a living."
Friedman earned a B.A. in Anthropology at Columbia University in 1978 and a J.D. at New York University School of Law in 1981. He has been a member of the New York bar since 1982.
A founding partner of the law firm Kasowitz, Benson, Torres & Friedman since 1994, David Friedman had headed the firm's creditors' rights and bankruptcy practice group and has represented Donald Trump and/or the Trump Organization several times. A personal friend of Trump since 2005, Friedman co-chaired Trump's Israel Advisory Committee along with Jason D. Greenblatt, a Trump Organization executive vice president.
Although Republican control of the Senate virtually guarantees Friedman's confirmation, his aggressive support for Trump's Israel agenda—which would reverse or weaken several policies that have been in place for decades—has provoked sharp criticism.
Friedman has advocated for years the kind of pro-Israel, anti-Palestine policies that Trump now espouses, including moving the embassy and allowing Israel to build settlements without restrictions in the Palestinian West Bank. Friedman writes a column for the pro-settlement Arutz Sheva news service and is the chair of the American Friends of Bet El Institutions, which raises money for the Beit El settlement community.
But Friedman's most radical position rejects the "two-state solution" that every U.S. administration has advocated since at least 1967. He has even said that Trump would support Israeli annexation of the West Bank—something most Israel supporters oppose because annexation would make Israel a Muslim-majority nation. Adding 4.5 million Palestinian Muslims to Israel's current population of 8.6 million (which is 75% Jewish) would create a nation of 13.1 million: 6.45 million Jews and 6.65 million Muslims.
To avoid the conclusion that his policies would actually destroy the Jewish character of Israel, Friedman has been forced to rely on his own set of Kellyanne Conway-esque "alternative facts," claiming to Haaretz without any evidence whatsoever that "nobody really knows how many Palestinians live there."
Friedman's language has also been extreme. He called Barack Obama an "anti-Semite" because of his failure to rubber stamp Israeli President Benjamin Netanyahu's policies, and stated that Jews associated with the liberal organization "J Street" are "far worse than Kapos"—Jewish concentration camp prisoners who collaborated with the Nazis in running the camps. Friedman's comment has itself been criticized for being anti-Semitic.
David Friedman and his wife, Tammy Sand, live in New York, but also own properties in the affluent Talbiya neighborhood of Jerusalem.
-Matt Bewig
To Learn More:
What Do We Know About David Friedman, Trump's Pick for Ambassador to Israel? (by Judy Maltz, Haaretz)
Meet David Friedman, Bankruptcy Lawyer Turned Possible Israel Ambassador (by Daniel J. Solomon, Forward)
Trump Picks Hard-Line Attorney as Israel Envoy, Angering Jewish left (by Nahal Toosi, Politico)