U.S. Ambassador to Estonia: Who Is Sonny Masso?
Wednesday, September 27, 2017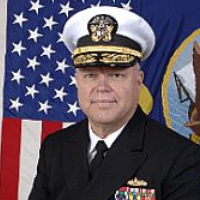 Sonny Masso
The next U.S. ambassador to the Baltic nation of Estonia will be a conservative retired admiral whose Estonian father came to the U.S. after World War II. Nominated by President Trump on September 2, 2017, Edward "Sonny" Masso visited Estonia in 1998 to attend a 300th anniversary family reunion. He also served in the Navy with former Trump advisor Steve Bannon. If confirmed by the Senate, Masso would succeed James D. Melville Jr., a career foreign service officer whose service in Tallinn began in August 2015.
Edward M. "Sonny" Masso was born December 2, 1955, in San Clemente, California. His father, Kuldar Masso, is an Estonian immigrant whose surname was originally Mässi. After his parents divorced, Masso's mother married Joseph Gould, a Navy officer who became Edward's stepfather. Sonny Masso graduated San Clemente High School in 1973, where he was sports editor of the student paper in his junior year and wrote a column in his senior year called "Sonny's Side."
Masso earned a BA in History Education at the University of Mississippi in 1977, and was commissioned an ensign through the Navy ROTC. He was on full time active duty from 1977 to 1984, including service as a first lieutenant, navigator, and ASW officer on the USS Paul F. Foster, as a Joint Chiefs of Staff intern, and as an assignment officer in the Bureau of Naval Personnel. While serving on the Foster, Masso met and befriended fellow naval officer Stephen Bannon, a former advisor to Trump. In 1984, Masso transitioned to the Select Reserve, continuing to serve on a part-time basis.
As a select reservist, Masso served in various capacities, including as vice commander at Navy surface forces, US Pacific Fleet in San Diego from September 2003 to May 2006, and assistant deputy chief of Naval operations for manpower, personnel, training, and education from May 2006 to May 2007. He capped his Navy career as a commander at the U.S. Navy Personnel Command from May 2007 to March 2009, when he retired from the Navy.
In the private sector, Masso was vice president at Anteon Corporation, a military contractor that specialized in simulators and interrogator training, from 1996 to 2004. Later, he was senior vice president for Navy and missile defense programs at SAIC Corp, from June 2009 to December 2010, and president of Flagship Connection, an executive consulting firm in Washington, from December 2010 to August 2017.
Masso also served—very briefly—as chief operating officer of the North Carolina Department of Public Safety in Raleigh, North Carolina, from February to August 2013. He resigned abruptly, just a day after his boss, Secretary of Public Safety Kieran Shanahan, also quit without warning. The suddenness of these exits raised eyebrows, especially since Masso's letter of resignation provided no reason for his decision.
Masso is a senior fellow at the conservative Potomac Institute for Policy Studies, and has written for the right wing website Breitbart, attacking the multi-party deal over Iran's nuclear ambitions after originally supporting it.
Among his military awards and commendations, Masso has stated he is most proud of the Meritorious Unit Commendation he received as a member of Navy Command Center 106 for actions during and after the September 2001 attacks on the Pentagon and World Trade Center.
Edward Masso is married to Sherrie R. (Merrell) Masso, with whom he has two children, Alexis and Colin.
-Matt Bewig
To Learn More:
Estonian-American Admiral Edward Masso Named the Next US Ambassador (by Sten Hankewitz, Estonian World)
Who are the Future US Ambassador to Estonia? (by Heliis Nemsitsveridze, Delfi)
The New American Ambassador has Estonian Roots Admiral (by Juhan Haravee, Ohtuleht)
Travelin' Man (Ricky Nelson Band, featuring Sonny Masso on guest vocals) (video)
San Clemente High students Get Visit from Admiral Alumnus (by Alexandra Stafford, Orange County Register)