U.S. Ambassador to Estonia: Who Is Jim Melville?
Saturday, September 12, 2015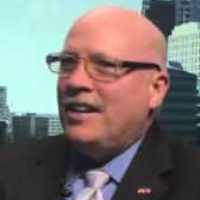 President Barack Obama on May 6, 2015, announced his intent to nominate James D. Melville Jr., a career member of the Foreign Service, as the next ambassador to Estonia. He was confirmed by the Senate August 5, 2015.
Melville is from Bradley Beach, New Jersey. He attended Boston University, earning a B.A. in history in 1979. He returned to New Jersey for law school and earned his J.D. from Rutgers in 1982.
Melville's first overseas assignment in the Foreign Service was as an assistant general services officer in the U.S. embassy in Berlin, in what was then the German Democratic Republic, or East Germany. Both his sons were born to his wife Joanna while Melville was stationed there. He later recounted that one of his fondest memories as a Foreign Service Officer was to be there when President Ronald Reagan visited Berlin's Brandenburg Gate in June 1987 and the president made his famous "Mr. Gorbachev, tear down this wall!" speech.
Melville's next assignment was one of his few outside Europe, as a consular officer in Victoria in the Seychelles. He later served as an administrative officer in the U.S. consulate in Leningrad.
Melville returned to the United States in 1993 as a legislative management officer in the State Department's Bureau of Legislative Affairs. In 1995, he was made a senior watch officer in the department's operations center and the following year because a Foreign Service examiner.
In 1997, he went overseas again. By this time, Melville's specialty had become management of U.S. missions, and in this assignment he was an administrative officer for the U.S. mission to NATO in Brussels, Belgium. He followed up that assignment in 2001 with one as a management officer in the embassy in Paris. Melville was named minister/counselor for management affairs in the embassy in Moscow in 2005 and assumed a similar role in the London embassy in 2008.
In 2010, Melville returned to the United States to become executive director of the Bureau of European and Eurasian Affairs and International Organization Affairs, providing support to 79 U.S. missions under those umbrellas.
Melville returned to Berlin in August 2012 as deputy chief of mission, serving for a time in 2013 as chargé d'affaires.
Melville speaks German, Russian and French.
-Steve Straehley
To Learn More: