U.S. Airstrikes—Seen by Some Syrians as an Attack on Islam—May Push Rebel Groups into ISIS Camp
Saturday, October 04, 2014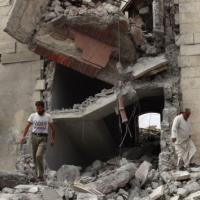 Syrians inspect damage to building after U.S. airstrike (photo: Sami Ali/AFP/Getty Images)
The Obama administration's effort to weaken the Islamic State (IS) inside Syria through the use of airstrikes has had the unintended consequence of helping the extremist group gain supporters, including among former enemies.
Abu Qusay, a Syrian rebel group that has enjoyed American backing in the war against dictator Bashar al-Assad, publicly said it "won't be allied with the West in a war against Islam" following U.S. attacks on IS positions.
Administration officials have insisted the airstrikes also targeted the Khorasan Group, consisting of al Qaeda operatives reportedly planning to attack the West. But some inside Syria countered the attacks really hit areas controlled by Al Nusra Front, said to be the main al Qaeda group in the country. If so, the attacks might cause Al Nusra and IS, which have been at odds, to move closer to one another in a battle against the common enemy of the United States.
The Los Angeles Times reported that "steps have already been taken for reconciliation between" IS and Al Nusra Front. In addition, IS leaders freed its Al Nusra Front prisoners in Raqqah, which American and allied warplanes and missiles have struck during the military campaign.
Abu Mohammed Jolani, Al Nusra Front's leader, has promised publicly that the airstrikes will cause a "volcano" to erupt against the U.S. and its Arab allies.
-Noel Brinkerhoff
To Learn More:
Airstrikes Against Islamic State in Syria Stir Anger Among Rebels (by Nabih Bulos and Patrick J. McDonnell, Los Angeles Times)
White House Exempts ISIS Strikes from Civilian Casualty Guidelines (by Jim Acosta and Kevin Liptak, CNN)
Activists Cite Civilian Casualties as Airstrikes Heat Up (By John Bacon, USA Today)
As U.S.-Led Coalition Strikes ISIS, Women Emerge to Fight Against and Die at Hands of Terror Group (by Noel Brinkerhoff, AllGov)
Obama Administration Claims Khorasan Group is more dangerous than ISIS, Bombs Them in Syria (by Noel Brinkerhoff, AllGov)
Almost Half of Syria's 100,000 Rebel Fighters are Hardline Islamists (by Noel Brinkerhoff, AllGov)
U.S. Has Secret Pact to Aid Syrian Rebels (by Noel Brinkerhoff, AllGov)