Obama Administration Claims Khorasan Group is more dangerous than ISIS, Bombs Them in Syria
Wednesday, September 24, 2014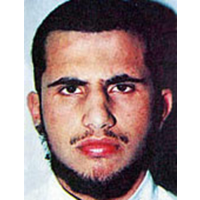 Muhsin al-Fadhli (photo: U.S. State Department)
The U.S. military carried out its first airstrikes in Syria this week, which came as no surprise given all the talk from the Obama administration about taking out the Islamic State (IS) (also known as ISIS) in that country and in neighboring Iraq.
But what was surprising was some of the targets of the attack.
In addition to going after IS locations, American explosives rained down on those associated with a little known, but reportedly dangerous offshoot of al-Qaeda: the Khorasan Group.
Consisting of senior al-Qaeda members, the Khorasan Group was plotting attacks against the U.S. or Americans overseas and posed an imminent threat, U.S. intelligence sources told the media. The discovery of the plots was reportedly made in the past week.
In fact, the director of national intelligence, James Clapper, said recently that Khorasan represented a more direct threat than IS. Clapper for the first time named the group's leader, Muhsin al-Fadhli, a Kuwaiti who, as a young man, worked closely with Osama bin Laden during the plotting of the 9/11 attacks.
Reports that followed the airstrikes did not say who from Khorasan might have been killed or injured. The attacks focused on "training camps, an explosives and munitions production facility, a communication building and command and control facilities," according to a U.S. military statement.
CNN reported that the Khorasan plots, said to be in an advanced stage, involved new methods of smuggling bombs onboard commercial jetliners through toiletries and clothes "dipped in explosive material."
-Noel Brinkerhoff
To Learn More:
Al Qaeda Group in Syria Plotted Attack against U.S. with Explosive Clothes (by Josh Levs, Paul Cruickshank, and Tim Lister, CNN)
Meet the Other Terror Group in Syria That Could Actually Threaten the US (by Tim Fernholz, Defense One)
U.S. Suspects More Direct Threats Beyond ISIS (by Mark Mazzetti, Michael Schmidt and Ben Hubbard, New York Times)
Report: Former Head of Al Qaeda's Network in Iran Now Operates in Syria (by Thomas Joscelyn, Long War Journal)